Guide to Civil War Nashville (2nd Edition) (Paperback)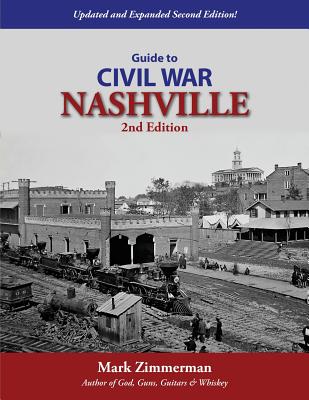 $19.95
Email or call for price.
Description
---
Guide to Civil War Nashville (2nd Edition) takes you on a 50-mile tour of 25 historical sites defining the Battle of Nashville and the Union occupation of Tennessee's capital. Illustrated with modern and wartime photographs, touring and battle maps, and diagrams, the guide also explores the plight of citizens living under the gun and the wartime role of Nashville. Also included are the tour map, precise driving directions with GPS coordinates, historical-marker text and locations, illustrated orders of battle, Medal of Honor recipients, and information about other Middle Tennessee sites. All of the sites on the tour include original photographs.
In addition to a timeline and map of military operations, the book covers the fall of the river forts and the capture of Nashville by Union forces in February 1862, prompting the Great Panic. The role of the river transports and the military railroad system is thoroughly explored, along with the controversies of Federal occupation. A map of Nashville in 1864 shows the city's infrastructure. The pride of the Federal engineers is Fort Negley, a tourism site which interprets the ruins of the largest stone fortification built during the war.
Three historic cemeteries are explored, complete with maps of burial sites. Three antebellum plantation mansions (Belmont, Travellers Rest, and Belle Meade) are now renovated and open to the public in all their splendor. Also examined at the Tennessee State Capitol complex (built right before the war) and the magnificent newly built Tennessee State Museum. Many of the city's structures, including four extant churches on the tour, were used as military hospitals during the fighting.
A lengthy article explores the decisive 1864 Battle of Nashville, the last major military activity in the Western Theater. Another article explores the skirmish on the Cumberland River prior to the main battle, between Federal gunboats and the Confederate cavalry. Four detailed maps, designed in coordination with Battle of Nashville Preservation Society Historian Ross Massey, illustrate the troop movements both days of the battle. There is no preserved battlefield today, urban development has obliverated most of it. However, the tour includes a dozen battle sites, including the famous Shy's Hill (known as Compton's Hill at the time).
This fact-packed guidebook also includes pages on Fortress Rosecrans and Fort Granger, a listing of other Civil War sites in Middle Tennessee, and a bibliography.
The first edition of Guide to Civil War Nashville was published in 2004 under the auspices of the Battle of Nashville Preservation Society.