Here Is the Arctic Winter (Web of Life #5) (Paperback)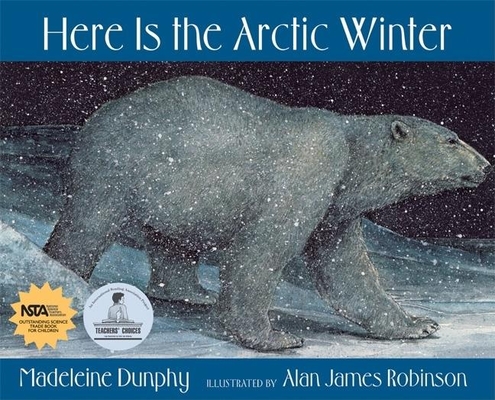 $9.95
Email or call for price.
Other Books in Series
This is book number 5 in the Web of Life series.
Description
---

Using cumulative verse, this book introduces children to the polar bears, caribou, foxes, snow owls, whales, seals, fish, and others hardy enough to survive the Arctic's cold, and dark winter, while giving young readers an understanding of how each creature is inextricably linked together in the chain of life.
The Arctic winter is cold, snowy, and dark. The barren landscape is covered by a layer of snow that stretches to the horizon, with nothing to disrupt it but jagged rocks. There are only a few plants and no sunlight. And yet, there are animals that live in this harsh environment. With lyrical text and glowing paintings that capture this mystically beautiful environment with stunning realism, this unusual book fascinates and inspires children of all ages
Other Books in the Series: HERE IS ANTARCTICA, HERE IS THE AFRICAN SAVANNA, HERE IS THE CORAL REEF, HERE IS THE SOUTHWESTERN DESERT, HERE IS THE TROPICAL RAIN FOREST, and HERE IS THE WETLAND.
Praise For…
---
Named a Teachers' Choice" by the International Reading Association

Named an Outstanding Science Trade Book for Children" by the National Science Teacher's Association and Children's Book Council

This unusual cumulative book begins with a stark, black-edged painting of the vast, moonlit, arctic landscape . . . inside are even more breathtaking scenes populated with dazzling animals . . . this luminous and reverent work is a welcome addition to the growing ranks of environmental books."
Publishers Weekly

"In blue, black, and white illustrations, attributes of the Arctic winter unfold. Double-page spreads contain brief text describing an array of animals; lyrical and cumulative, the story is good for reading aloud."
The Horn Book

Snowy owl and caribou, narwhal and polar bear, surviving in the ice at the end of the world. The hypnotic text and paintings by the renowned wildlife artist mark the collaborators' stunning debut."
Smithsonian

A beautifully illustrated book about the endangered Arctic and the animals strong enough to survive the Arctic's cold and dark winter. The lyrical repetitive text is an excellent introduction to exploratory or informational text for beginning readers. Excellent."
The Reading Teacher

"Looking for a great book to introduce young children to the web of life and how all living creatures are interconnected? Told as a lyrical cumulative tale with simple text, Here Is the Arctic Winter starts with the sky dark, all day and night, and returns there at the end, while highlighting many animals that can survive the harsh Arctic winters. All of the illustrations are done in shades of blue, black, and white and will immerse readers in the dark Arctic winter. The pages also have a deep blue border around them to heighten the feeling. As each species is highlighted, it is added to the lyrical text. The illustrations show the added animal and include others that may have been talked about earlier in the book. Included at the end are two pages of more detailed background for readers. This adds depth of understanding and extra facts for advanced readers. These facts, for instance, include that polar bears have two layers of fur and underneath that fur is four inches of blubber! The snowy owl's body is completely covered with soft, fluffy feathers with another coat of overlapping feathers on top. This book is great to read aloud, and children will probably memorize the text because it is so rhythmic and repetitive. Very young children will readily pick up this book and share it with others after having the book read to them. This is a great introduction to informational text for beginning readers. Children will read and reread this book and add to their understanding of the web of life."
Science and Children