The Ludlam Legacy (Paperback)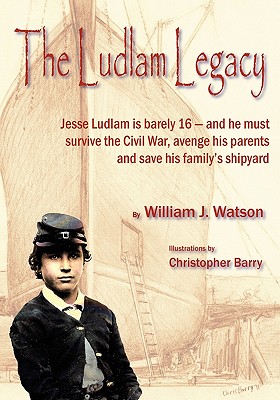 $9.95
Email or call for price.
Description
---
Jesse Ludlam finds himself suddenly orphaned and then roughly yanked from the happy, bustling clamor of a New Jersey shipyard into the murderous thundering battlefields of Virginia. From there he moves to the world of the United States Navy and its blockade of the Confederacy. And then there are pirates in the Bahamas. Want to go with him? "The Ludlam Legacy" brings the Civil War alive and thumping into the minds of young readers. It's a tale of growing up the hardest way imaginable, in war, without parents, burdened with a hair-trigger hot temper and surrounded by people who won't take you seriously. Sixteen-year-old Jesse faces challenge after challenge on his journey to first survive the war - including surviving his own sometimes inept leaders - and then find out what happened to his murdered parents. He's got no magic spells he can use, just his own wits - and maybe one girl who believes in him no matter what. Ready or not (and he's mostly not) he's off on an epic adventure to take back his destiny. The book is filled from stem to stern with real history, real people, real deeds, teachable moments, and insight into how those old-timey people of the 1860s were on the cutting edge of changing technology and faced many of the same issues we do today. It's also filled with rip-roaring adventure and memorable characters.Suitable for ages 12 through adult.