Understanding Sam and Asperger Syndrome (Hardcover)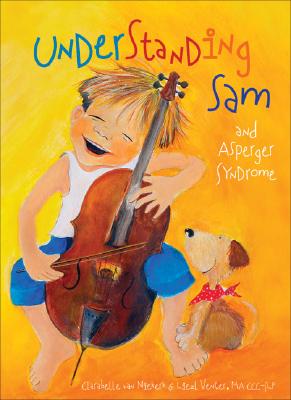 Email or call for price.
Not Available at This Time
Description
---
The National Parenting Center Seal of Approval Winner Holiday 2008 Shortlisted for Speech Pathology Australia's Book of the Year in the lower primary category Answering the question Why is Sam different?, this heartwarming story tells of the challenges of living with Asperger Syndrome, a form of autism. This firsthand view of the life of an undiagnosed child presents behaviors and characteristics that are common among children with this disorder. Sam doesn't like his pancakes to touch, his sister is annoyed with his repetitive song, and his new coat hurts his skin, but once he is diagnosed, teamwork-based support helps Sam's life become a little easier. With endearing illustrations, the book includes 10 helpful tips geared toward children, showing them how to respect and accept differences as well as to interact with a classmate or friend with Asperger Syndrome.
About the Author
---
Clarabelle van Niekerk is the resident artist for the Pennsylvania Council on the Arts, the founder of the London Puppet Theatre, and winner of many international awards, including the Perry Cumberland Excellence in Puppetry Award and the Educator of the Year Award for Children with Special Needs. She lives in Meadville, Pennsylvania. Liezl Venter, MA, CCC-SLP has worked in various clinical settings in the the United States and abroad, specializing in children disagnosed with autustic spectrum disorders and Asperger Syndrome. She is also a certified member of the American Speech Language Hearing Association.
Praise For…
---
Recipient of The 2010 Dolly Gray Children's Literature Award, which recognizes high-quality children's literature that includes positive and realistic characters with developmental disabilities
"Because of the interesting story line, the positive approach, and the notion that others can learn to help Sam instead of expecting him to change, this is an excellent introduction to the topic. . . . A useful introduction for both children and adults."  —School Library Journal


"An excellent book."  —Tony Attwood, PhD, author, The Complete Guide to Asperger's Syndrome


"This book should be in every elementary school library to encourage other children to help a child who has Asperger's Syndrome."  —Temple Grandin, PhD, PAS, author, Thinking in Pictures and Animals in Translation


"Every parent and teacher of a young child on the ASD spectrum should have a copy."  —Susan J. Moreno, MA, founder, MAAP Services for Autism and Asperger Syndrome


"A delightful and factual description of a young child with Asperger's. Bravo to the authors!"  —Maureen Barber-Carey, EdD, executive vice president, The Dr. Gertrude A. Barber National Institute


"Helps children accept each other's unique aspects—what a great way for teachers to promote an accepting environment in their classrooms."  —Heidi Harbers, PhD, CCC-SLP, highly regarded pediatric speech language pathologist

"Children will enjoy the appealing illustrations and good writing as they learn about a complex neurological disorder that affects so many."  —The Plain Dealer