The Hunters (Paperback)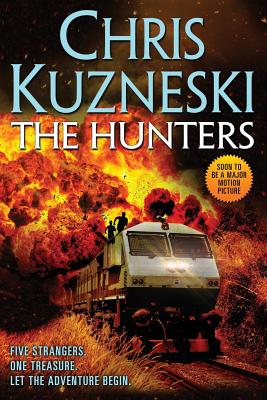 Email or call for price.
In Our Warehouse - Expected arrival in 2-5 days
Description
---
#1 bestselling thriller that will soon be a major motion picture
THE TEAM: Financed by a billionaire philanthropist, this elite team-a soldier, an historian, a computer whiz, a weapons expert, and a thief-is tasked with finding the world's most legendary treasures.
THE MISSION: Fearing a German victory in WWI, the Romanian government signed a deal with Russia to protect the country's treasures. In 1916, two trains full of gold and the most precious possessions of the Romanian state-paintings, jewelry, and ancient artifacts-were sent to the underground vaults of the Kremlin. But in the turmoil of war, the Romanian treasure was scattered and lost.
THE PRIZE: The collection is now valued at over $3.5 billion. Despite several attempts to find it, its location has remained a mystery...until now.
PRAISE FOR THE HUNTERS:
Steve Berry, #1 international bestselling author: "Kuzneski does it again with another terrific tale, filled with action and suspense, bringing the unimaginable to life. Definitely my kind of story "
Scott Mariani, #1 international bestselling author: "THE HUNTERS kicks off a brilliant new series from Chris Kuzneski. Adventure, history, mystery, and more-everything you'd want in a thriller "
The Daily Mail (UK): "THE HUNTERS is taut and fierce -- with a cast of agreeably idiosyncratic characters. It feels like the draft of a movie, and it could just be Kuzneski's breakthrough novel. It deserves to be."
Herald Sun (Australia): "THE HUNTERS is Mission: Impossible on steroids. The first in a new series, Kuzneski brings together a super-expert crew of renegades to track down a lost treasure, sent into hiding in 1916 and never seen again. . . It's all about the action, which never stops. Half the fun is imagining the all-star cast for the movie that was clearly in Kuzneski's mind. Final verdict: Thrill Ride."
Boyd Morrison, international bestselling author: "If Indiana Jones joined the crew of Mission: Impossible, you'd get the action, history, and wicked sense of humor in THE HUNTERS. With a thrill ride that pins you to your seat until the very last page, Chris Kuzneski sets a new standard for adventure."
About the Author
---
CHRIS KUZNESKI is the New York Times bestselling author of eleven novels: THE PRISONER'S GOLD, THE FORBIDDEN TOMB, THE EINSTEIN PURSUIT, THE HUNTERS, THE DEATH RELIC, THE SECRET CROWN, THE PROPHECY, THE LOST THRONE, SWORD OF GOD, SIGN OF THE CROSS, and THE PLANTATION. His novels have been translated into more than twenty languages and have sold millions of copies worldwide.