Galloway's Book on Running: 3rd Edition (Paperback)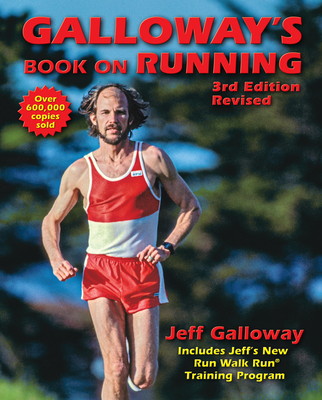 $21.95

In Our Warehouse - Expected arrival in 2-5 days
Description
---
One of the world's most popular running books, this new edition has been updated to include Jeff Galloway's run walk run(R) method of training, which allows runners of all levels to train injury-free for a variety of races. A classic updated for the 21st century.
Olympic athlete Jeff Galloway shows how amateur runners can use the same training principles followed by world-class runners. He tells beginners how to get started, explains his ideas on stress and rest, and reveals secrets for running better. In this completely revised and updated new edition of the classic text on running, Galloway includes training schedules for 5k, 10k, and the increasingly popular half-marathon races, as well as recent insights into motivation, nutrition, and fat burning.
Most importantly, Jeff has updated this version to include his run walk run(R) method of training, which has helped tens of thousands of runners train injury-free for races of varying distances, including marathons.
Runners at all levels will benefit from this seasoned athlete's wisdom.
About the Author
---
In the 1970s, Jeff Galloway was one of a group of young American runners who would change distance running forever. Jeff and his running buddies -- Frank Shorter, Bill Rodgers, Steve Prefontaine, Don Kardong, Amby Burfoot, Kenny Moore and others -- captured the attention of a new generation of fitness-minded Americans, and the running boom was born. What had been a sport for the few became an activity for the millions. Jeff attended Wesleyan University and was All-American in cross-country and track. In preparing for the 1972 Olympics, Jeff, along with Frank Shorter and Jack Bacheler, spent two months training in the mountains at Vail, Colorado, and all three made the Olympic team that year. In 1973 Jeff set an American record in the 10-mile. He won the first Atlanta Marathon at age 18, and was the first winner of Atlanta's Peachtree Road Race in 1970. In the mid-'70s he began to follow a training program that emphasized more rest and less weekly mileage, coupled with a long run every other week. At age 35 he ran the Houston-Tenneco Marathon in 2:16. Jeff Galloway's Competitive Career High school: 1-mile: 4:28; 2-mile: 9:48 College: 1-mile: 4:12; 2-mile: 9:06; 3-mile: 14:10 Other times: 6-mile: 27:21 10K: 28:29 10-mile: 47:49 (U.S. record, 1973) Jeff met his wife Barbara at a track meet in Florida. Barbara was on the Florida State women's track team. They were married in 1976. Barbara, who wrote the chapter on Women's Running, runs practically every day and has competed in over 165 marathons. Her best 10K time is 41:50 and marathon time, 3:18. Jeff is now on the road over half the time. Because of his busy schedule, he often runs 2-5 miles, 2-3 times per day. He generally totals about 50 miles a week. He has currently run over 240 marathons, at the rate of 10 per year. He and Barb are invited speakers at dozens of events each year including the runDisney series -- where Jeff is the Official Training Consultant, at his booth each weekend. All of the Galloways run marathons, half marathons, and other events.