The Gospel Truth (Paperback)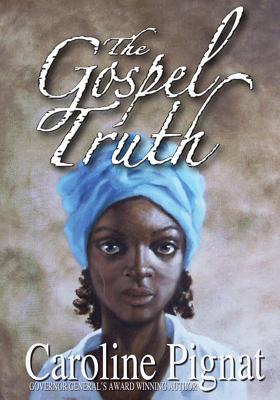 $12.95
Email or call for price.
Description
---
2015 Governor General's Literary Award Winner
Caroline Pignat's The Gospel Truth is the powerful and poignant story of 16-year-old Phoebe, a slave girl in 1858 Virginia. Written in lyrical and elegant free verse, it is an unflinching look at the brutality of slavery and Phoebe's struggle for freedom and truth. Ultimately, this is a story of hope. - Governor General's Literary Awards Jury
CLA Young Adult Book Award Honour Book 2015
The Gospel Truth is a novel in verse. It addresses human rights issues and racism with a tale from the time of slavery in the United States and the underground railroad to Canada. Several distinct voices are established as the story unfolds from multiple perspectives. Hope, bravery and kindness shine from characters in desperate circumstances. With flowing text that will be devoured by reluctant readers and subject matter fit for class discussion, The Gospel Truth is a powerful read. - CLA Jury
Geoffrey Bilson Award for Historical Fiction for Young People finalist, 2015
Amy Mathers Teen Book Award finalist, 2015
Ottawa Book Award: Finalist in the English Fiction category
2016 Red Maple Fiction Award nominee
Award-winning author Caroline Pignat's new historical novel recreates the world of a Virginia tobacco plantation in 1858. Through the different points of view of slaves, their masters and a visiting bird-watcher the world of the plantation comes to live in this verse novel.
Phoebe belongs to Master Duncan and works in the plantation kitchen. She sees how the other slaves are treated - the beatings and whippings, the disappearances. She hasn't seen her mother since Master Duncan sold her ten years ago. But Phoebe is trying to learn words and how to read and when she is asked to show the master's Canadian visitor, Doctor Bergman, where he can find warblers and chickadees she starts to see things differently. And Doctor Bergman has more in mind that just drawing the local birds.
Phoebe's friend Shad works on the plantation as well - but mostly he worries about his brother Will. His brother is the last member of his family and he is determined to escape from the master and the tobacco plantation. He has already been caught and beaten more than once. And the stories about life in Canada can't be true, can they? How does a man survive without the master there taking care of everything?
About the Author
---
Caroline Pignat graduated from the University of Ottawa with a Bachelor of Education. After working with children and youth for more than 15 years as a teacher mentor and coach, she embarked on a writing career. She lives in Ottawa with her family.