Susanna's Quill (Paperback)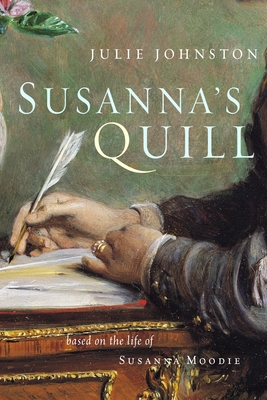 $9.95
Email or call for price.
Description
---
Shortlisted for the 2005 Young Adult Canadian Book Award

Susanna's Quill is a work of historical fiction based on the life of Susanna Moodie, writer and pioneer, by award-winning author Julie Johnston. The story takes us into Susanna's genteel English childhood, through her humorous teenage attempts at writing, growing to her burgeoning independence, marriage to Dunbar Moodie, and their decision to emigrate from England. To the Moodies, Canada was the answer to their prayers. They would have the life they could no longer afford in Britain and they could raise their children to become wealthy landowners in their own right.

The adventures that thwart this dream become a story of lost illusions and a found sense of self-reliance and inner strength.
About the Author
---
Julie Johnston received the Governor General's Award for her first two books, Hero of Lesser Causes and Adam and Eve and Pinch-Me. Her third novel, The Only Outcast, was shortlisted for the Governor General's Award, as was her most recent book, In Spite of Killer Bees. In 2003, Julie Johnston was awarded the Vicky Metcalf Award for Children's Literature in recognition of the enormous contribution her body of work has made to children's literature. Julie Johnston lives in Peterborough, Ontario.
Praise For…
---
Praise for Susanna's Quill:

"[Susanna's Quill] brings to the subject what is best about Johnston's writing — considerable thoughtfulness and proven ability to provide a rich, textured prose that invites readers deeper toward understanding."
— The Toronto Star

"Johnston weaves a myriad of delicious detail.… Johnston makes roughing it in the bush visceral and real…. The reader cannot help but become emotionally involved in this woman, a tribute to Johnston, who brings her to life on the page."
— The Globe and Mail

"Richly detailed.… Memorable characters and a well-paced narrative mark Johnston's foray into historical fiction." — The Horn Book Guide