Vietnam (Paperback)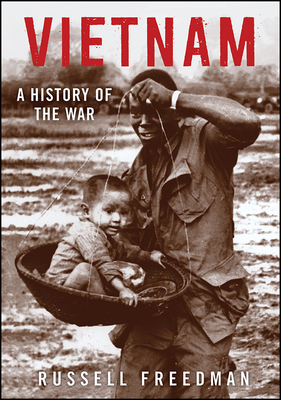 $15.99
Email or call for price.
Description
---
A comprehensive overview of one of the most controversial wars in America's history written by masterful children's historian and Newbery Medalist Russell Freedman.

With prose that is clear, concise, and enthralling, Russell Freedman presents a detailed overview of the Vietnam war.  Beginning with the rise of communism in Vietnam and detailing the increase of American involvement, Freedman then explains why, twenty years later, an exit was so difficult.

In addition to explaining the complex beginnings of the conflict through the catastrophic damage the war caused, Freedman concludes with a hopeful epilogue on modern Vietnam.  This is a definitive resource for young history readers as well as anyone who wants a concise and authoritative understanding of the Vietnam War, exploring both the American and Vietnamese perspectives. 

Freedman chronicles the history leading up to the war and the unfolding events in Vietnam and in the US as increasing numbers of young men were sent into the jungles to fight. Coverage includes the French war in Vietnam, the rise of Ho Chi Minh, the fall of President Diem, the Tonkin Gulf, the Tet Offensive, the My Lai massacre, the bombing of Cambodia, and the fall of Saigon, as well as the US anti-war movement.

The book includes nearly 100 historic photographs and illustrations, as well as candid photographs showcasing the state of Vietnam today.  A glossary, source notes, bibliography and index are included.

A Junior Library Guild Selection
About the Author
---
Russell Freedman (1929-2018) transformed non-fiction for children through his insightful narrative, comprehensive research, careful selection of photographs, and deep understanding of his subject matter. He was well known for his riveting biographies and masterful accounts of the history of the United States. One of the most honored writers for children, his many awards include the Newbery Medal, three Newbery Honor Medals, the Laura Ingalls Wilder Award, the May Hill Arbuthnot Honor Lecture Award and a National Humanities Medal. Major works include Freedom Walkers, Lincoln: A Photobiography, Because They Marched, The Wright Brothers: How They Invented The Airplane. 
Praise For…
---
* "In his customary well-honed prose, Freedman presents a coherent overview of the Vietnam War . . . Will be useful to serious students of the era . . . Along with being more readable than the plethora of assignment titles on the subject, this is a clear-eyed view of a watershed event in U.S. history and a significant update to older histories for middle graders."—School Library Journal, Starred Review

* "Solid history that doesn't shy away from difficult truths and important moral and political lessons."—Kirkus Reviews, Starred Review

* "In an excellent study of the Vietnam War that examines the conflict and its aftermath from multiple angles, Freedman (We Will Not Be Silent) again tackles a complex historical event and breaks it down into an accessible account for young readers. . . . Graphic photographs provide an up-close look at the war and the protests surrounding it. The author concludes with a poignant observation about the legacy of the war: a humbling reminder of the limits of power."—Publishers Weekly, Starred Review