Give Me Liberty!: The Story of the Declaration of Independence (Hardcover)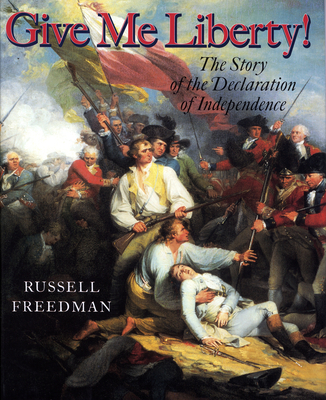 $24.95
Email or call for price.
Description
---
Celebrated children's historian Russell Freedman explores the tensions in colonial America that led to the creation of the Declaration of Independence and the birth of a nation.

This engaging account delves into the deep-rooted conflicts between the American colonies and the British crown, presenting the Revolution not as a sudden break between distant governments but an inevitable result of building pressure, spurred on by events and guided by the distinct personalities that would become the Founding Fathers.  

With a strong focus on cause and effect and the actions of important individuals, Give Me Liberty! traces the tensions that built up in the 1770s, including the Stamp Act, the Boston Tea Party, and the early battles of the Revolutionary War, culminating in the signing of the Declaration in 1776, and its spread through the new American nation.

Illustrated with historical paintings, prints, and document reproductions, Freedman weaves primary sources and contemporaneous accounts into his narrative, making it an immersive and eye-catching resource.

Perfect for students of American history, this introduction to the American Revolution also includes a final chapter on how the ideals expressed in the Declaration of Independence have persisted and evolved through the years, inspiring later generations to seek rights for more and more Americans.  Detailed backmatter includes a printed image and full text of the Declaration, a timeline of events, selected bibliography, and index.
About the Author
---
Russell Freedman (1929-2018) transformed non-fiction for children through his insightful narrative, comprehensive research, careful selection of photographs, and deep understanding of his subject matter. He was well known for his riveting biographies and masterful accounts of the history of the United States. One of the most honored writers for children, his many awards include the Newbery Medal, three Newbery Honor Medals, the Laura Ingalls Wilder Award, the May Hill Arbuthnot Honor Lecture Award and a National Humanities Medal. Major works include Freedom Walkers; Lincoln: A Photobiography; Because They Marched; The Wright Brothers: How They Invented The Airplane; Vietnam: A History of the War. 
Praise For…
---
* "How does he do it? Once again Freedman takes a crucial moment in American history and imbues it with living grace and powerful tension. . . . Along the way, he frankly delineates the place of women, indentured servants, and African American slaves and freedmen, and explains their roles in the revolution."—Booklist, Starred Review

* "A must for every collection."—School Library Journal, Starred Review

* "If Freedman wrote the history textbooks, we would have many more historians . . . An excellent addition to the American history collection and an engrossing read."—Kirkus Reviews, Starred Review