Around the World on a Bicycle (Paperback)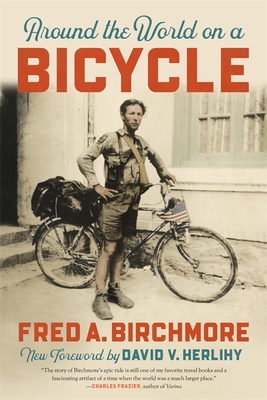 $22.95
Email or call for price.
Description
---
This classic, once hard-to-find travelogue recalls one of the very first around-the-world bicycle treks. Filled with rarely matched feats of endurance and determination, Around the World on a Bicycle tells of a young cyclist's ever-changing and maturing worldview as he ventures through forty countries on the eve of World War II. It is an exuberant, youthful account, harking back to a time when the exploits of Richard Byrd, Amelia Earhart, and other adventurers stirred the popular imagination.
In 1935 Fred A. Birchmore left the small American town of Athens, Georgia, to continue his college studies in Europe. In his spare time, Birchmore toured the continent on a one-speed bike he called Bucephalus (after the name of Alexander the Great's horse). A born wanderer, Birchmore broadened his travels to include the British Isles and even the Mediterranean. After a lengthy, unplanned detour in Egypt, Birchmore put his studies on hold, pointed Bucephalus eastward, and just kept going. From desert valleys to frozen peaks, from palace promenades to muddy jungle trails, Birchmore saw it all on his eighteen-month, twenty-five-thousand-mile odyssey. Some of the people he encountered had never seen a bike--or, for that matter, an Anglo-European.
As a good travel experience should, Birchmore's trip changed his outlook on strangers. Always daring, outgoing, and energetic, he now saw an innate goodness in people. In between bone-breaking spills, wild animal attacks, and privation of all kinds, Birchmore learned that he had little to fear from human encounters. That he traveled through a world on the brink of global war makes this lesson even more remarkable--and timeless.
About the Author
---
FRED A. BIRCHMORE (1911-2012) also completed a twelve-thousand-mile trip around North America, a forty-five-hundred-mile trip through Latin America (on a tandem bike, with his newlywed wife), and a four-thousand-mile trip through Europe. In addition, he completed a number of long-distance hikes, such as the Appalachian Trail and Long Trail in the United States, the Inca Trail in Peru, and the Milford Track in New Zealand. These experiences are chronicled in Birchmore's other memoir, Miracles in My Life. Birchmore served as a gunnery officer in the North Atlantic during World War II, and while always pursuing a life of adventure, he worked as an attorney, pilot, college professor, summer camp director, real estate broker, scout leader, and a gratis lecturer for countless groups and occasions. He was chosen as a torchbearer for the 1996 Olympics in recognition of his many achievements and his commitment to public service.