Betrayal at the Buffalo Ranch (A Sadie Walela Mystery #4) (Paperback)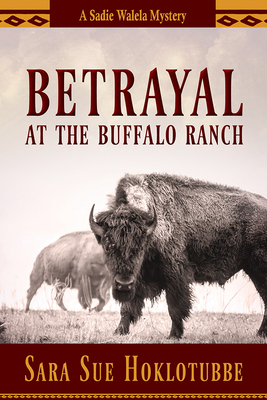 $16.95
Email or call for price.
Other Books in Series
This is book number 4 in the A Sadie Walela Mystery series.
Description
---
When Sadie Walela learns that her new neighbor in Cherokee Country, Angus Clyborn's Buffalo Ranch, offers rich customers a chance to kill buffalo for fun, she is horrified. No good can surely come from this. It doesn't, and murder soon follows.

Even though Deputy Sheriff Lance Smith, Sadie's love interest, suspects a link to the Buffalo Ranch, he can find little evidence to make an arrest. And when a rare white buffalo calf is born on the ranch and immediately disappears, Sadie's instincts tell her something is wrong—and she sets out to prove it. Her suspicions—and fears of more violence—escalate when a former schoolmate returns to Oklahoma to visit her ailing father and finds employment at the ranch. Will she be the next victim?

Drawn deeper and deeper into danger, Sadie uncovers an unparalleled web of greed and corruption. It will take all of her investigative skill to set things straight—assuming she and her wolfdog can stay alive long enough to succeed.
 
About the Author
---
Sara Sue Hoklotubbe, a Cherokee tribal citizen, is the author of the award-winning Sadie Walela Mystery series, which also includes Deception on All Accounts, The American Café, and Sinking Suspicions. She is the winner of a WILLA Literary Award, a New Mexico-Arizona Book Award for best mystery/suspense, and a Wordcraft Circle of Native Writers and Storytellers Award for best mystery. She and her husband live in Colorado.
Praise For…
---
"Hoklotubbe keeps getting better."—Publishers Weekly

"Oklahoma native Hoklotubbe once again shows evildoing in the area of her childhood home. A deep feeling for both the country and its inhabitants adds authenticity to her cunning tale."—Kirkus

"It's easy to see why Hoklotubbe's Sadie Walela mysteries have won awards: Betrayal at the Buffalo Ranch thunders along in a gripping narrative propelled by characters and situations that are both familiar and foreign, and draws to a satisfyingly redemptive and believable ending. Sadie and her community are fascinating and likable people—not perfect by any means, but easy to root for. For those who enjoy a read that is entertaining and informative, crisply written, and gives you a glimpse of a world you don't know, this book is a winner." —Story Circle Book Reviews

"Hoklotubbe's attention to respectfully engage the reader with Cherokee values, language, and culture, as well as contemporary issues, absolutely places her as a contemporary Native American crime novelist to follow. There is no doubt that Sadie Walela has many more stories to tell."—Transmotion

"When a fascinatingly disagreeable character is killed by rifle shot, the challenge for Lance and Sadie is sifting through the range of characters who had diverse and compelling reasons to want him dead. Betrayal at the Buffalo Ranch races to a climax like a stampeding herd and leaves the reader simultaneously satisfied and wanting the next Sadie Walela story. Sara Sue Hoklotubbe gets better with each book; Betrayal at the Buffalo Ranch is her best yet."—Anne Hillerman, author of the New York Times best-selling Leaphorn, Chee, and Manuelito mysteries
 
"Betrayal at the Buffalo Ranch is a fast-moving and suspenseful mystery that unfolds in a contemporary Native American community that contains people like Sadie Walela and her boyfriend Lance Smith, people who become heroes because sometimes heroes are what's needed."—Thomas Perry, author of The Bomb Maker
 
"A compelling, tautly written, and hard-to-put-down mystery. Betrayal at the Buffalo Ranch takes you into the lives and culture of modern-day Cherokees, all while keeping you guessing and turning the pages until the very end. Sara Sue Hoklotubbe just gets better and better."—Margaret Coel, New York Times best-selling author of Winter's Child

"Hoklotubbe herself a Cherokee tribal citizen, not only sets the rural stage in finely crafted prose but also portrays a most interesting set of characters with empathetic fears and foibles." – Ann Ronald, Bookin with Sunny