The Greatest Ballpark Ever: Ebbets Field and the Story of the Brooklyn Dodgers (Paperback)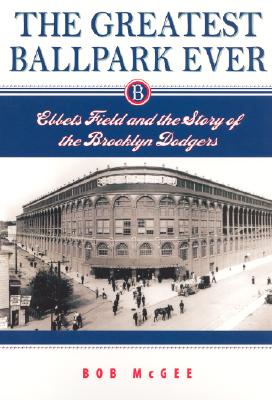 $33.95
Email or call for price.
Description
---
Generations after its demise, Ebbets Field remains the single most colorful and enduring image of a baseball park, with a treasured niche in the game's legacy and the American imagination.

In this lively story of sports, politics, and the talented, hilarious, and charming characters associated with the Brooklyn Dodgers, Bob McGee chronicles the ballpark's vibrant history from the drawing board to the wrecking ball, beginning with Charley Ebbets and the heralded opening in 1913, on through the eras that followed. McGee weaves a story about how Ebbets Field's architectural details, notable flaws, and striking facade brought Brooklyn and its team together in ways that allowed each to define the other.

Drawing on original interviews and letters, as well as published and archival sources, The Greatest Ballpark Ever explores the struggle of Charley Ebbets to build Ebbets Field, the days of Wilbert Robinson's early pennant winners, the eras of the Daffiness Boys, Larry MacPhail, and Branch Rickey, the tumultuous field leadership of Leo the Lip, the fiery triumph of Jackie Robinson, the golden days of the Boys of Summer, and Walter O'Malley's ignominious departure.

With humor and passion, The Greatest Ballpark Ever lets readers relive a day in the raucous ballpark with its quirky angles and its bent right-field wall, with the characters and events that have become part of the nation's folklore.
About the Author
---
Bob McGee, coauthor of Bridges of Central Park, has had a twenty-five-year career in public relations and media relations, writing speeches for CEOs and government leaders and developing public relations strategies. His sports articles have appeared in the New York Times and the Oakland Tribune; numerous other contributions have appeared elsewhere. He currently lives in Westchester County, north of New York City.
Praise For…
---
I've been in and around baseball for 70 years now and this undoubtedly is one of the finest books I've ever read. For a moment I thought I was sitting in Ebbets Field and was ready to order a hot dog.
— Arthur Richman

Bob McGee spins a magical tale about the ball park, and readers will come away with an understanding of its mystique for generations of Dodger fans.
— Stan Isaacs