The Eye of the World: Book One of 'The Wheel of Time' (Mass Market Paperback)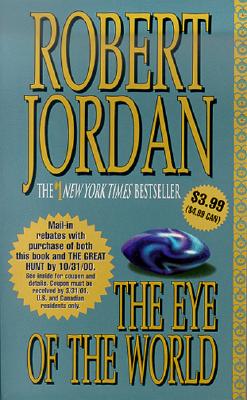 $3.99
Email or call for price.
Description
---
The Wheel of Time turns and Ages come and go, leaving memories that become legend. Legend fades to myth, and even myth is long forgotten when the Age that gave it birth returns again. In the Third Age, and Age of Prophecy, the World and Time themselves hang in the balance. What was, what will be, and what is, may yet fall under the Shadow.

Praise For…
---
"Jordan has come to dominate the world that Tolkien began to reveal."--The New York Times

"Jordan is able to take...familiar elements and make them his own, in a powerful novel of wide and complex scope. Open religious and political conflicts add a gritty realism, while the cities and courts provide plenty of drama and splendor. Women have a stronger role than in Tolkien...Each character in this large cast remains distinct....Their adventures are varied, and exciting....The Eye of the World stands alone as a fantasy epic."--Locus

"Robert Jordan has created a fantasy world as tangible and credible as history. He has a fine eye for detail and a vivid sense of drama."--Morgan Llewelyn