The Wheel of Time, Boxed Set I, Books 1-3: The Eye of the World, The Great Hunt, The Dragon Reborn (Multiple copy pack)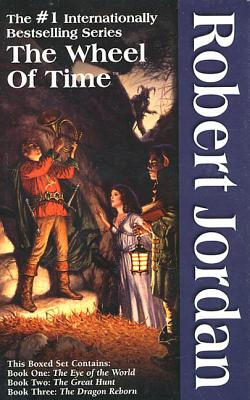 Email or call for price.
Not Available at This Time
Description
---
This premium mass market box set includes the first three volumes of The Wheel of Time®, Robert Jordan's internationally bestselling fantasy series, available with striking new cover art.
Since its debut in 1990, The Wheel of Time by Robert Jordan has captivated millions of readers around the globe with its scope, originality, and compelling characters.
The Wheel of Time turns and Ages come and pass. What was, what will be, and what is, may yet fall under the Shadow. Let the dragon ride again on the winds of time.
This boxed set contains:
Book One: The Eye of the World
Book Two: The Great Hunt
Book Three: The Dragon Reborn
About the Author
---
Robert Jordan was born in 1948 in Charleston, South Carolina. He taught himself to read when he was four with the incidental aid of a twelve-years-older brother, and was tackling Mark Twain and Jules Verne by five. He was a graduate of The Citadel, the Military College of South Carolina, with a degree in physics. He served two tours in Vietnam with the U.S. Army; among his decorations are the Distinguished Flying Cross with bronze oak leaf cluster, the Bronze Star with "V" and bronze oak leaf cluster, and two Vietnamese Gallantry Crosses with palm. A history buff, he also wrote dance and theater criticism and enjoyed the outdoor sports of hunting, fishing, and sailing, and the indoor sports of poker, chess, pool, and pipe collecting. Robert Jordan began writing in 1977 and went on to write The Wheel of Time®, one of the most important and best selling series in the history of fantasy publishing with over 14 million copies sold in North America, and countless more sold abroad. Robert Jordan died on September 16, 2007, after a courageous battle with the rare blood disease amyloidosis.