Carnivores (Hardcover)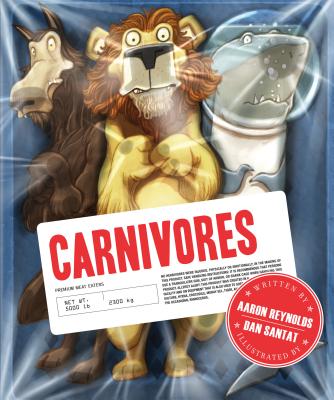 $16.99

In Our Warehouse - Expected arrival in 2-5 days
Description
---
The lion is king of the jungle!
The great white shark is sovereign of the seas!
The timber wolf is emperor of the forests!

But . . . it's lonely at the top of the food chain. It's difficult to fit in when plant eaters can be so cruel—just because you ate a relative of theirs that one time! What's a carnivore to do? Aaron Reynolds's roaringly funny text is perfectly paired with Dan Santat's mouthwatering illustrations, creating a toothsome book that's sure to stand out from the herd.
About the Author
---
Aaron Reynolds has written many delicious books for kids including the Caldecott Honor Book Creepy Carrots. Though Aaron spent six years as a vegetarian, he is now a committed carnivore. He lives in Chicago.

Dan Santat is the illustrator of many acclaimed books and the creator of Disney's animated hit The Replacements. He lives in Southern California with his wife, two kids, a rabbit, a bird, and one cat.
Praise For…
---
"Irreverent and decidedly Darwinian humor pioneered by the likes of Jon Scieszka and Lane Smith . spoofing everything from foodie trends to self-actualization."--Publishers Weekly, starred review

"Irreverent and decidedly Darwinian humor pioneered by the likes of Jon Scieszka and Lane Smith . spoofing everything from foodie trends to self-actualization."--Publishers Weekly, starred review

"Irreverent and decidedly Darwinian humor pioneered by the likes of Jon Scieszka and Lane Smith . spoofing everything from foodie trends to self-actualization."--Publishers Weekly, starred review

"Will young readers swallow such a tongue-in-cheek take on the importance of self-acceptance? With relish."--Kirkus Reviews

"Will young readers swallow such a tongue-in-cheek take on the importance of self-acceptance? With relish."--Kirkus Reviews

"Will young readers swallow such a tongue-in-cheek take on the importance of self-acceptance? With relish."--Kirkus Reviews

"The underlying theme for young readers, of course, is being yourself and accepting who you are."--Reading Today

"The underlying theme for young readers, of course, is being yourself and accepting who you are."--Reading Today

"The underlying theme for young readers, of course, is being yourself and accepting who you are."--Reading Today

"Will be a favorite for rowdy read-alouds. chuckle-inducing from cover to cover."-School Library Journal

"Will be a favorite for rowdy read-alouds. chuckle-inducing from cover to cover."-School Library Journal

"Will be a favorite for rowdy read-alouds. chuckle-inducing from cover to cover."-School Library Journal

"An irreverent, toothsome tale championing self acceptance."--Jama Kim Rattigan, Alphabet Soup Blog

"An irreverent, toothsome tale championing self acceptance."--Jama Kim Rattigan, Alphabet Soup Blog

"An irreverent, toothsome tale championing self acceptance."--Jama Kim Rattigan, Alphabet Soup Blog