Lost and Found: Three Dog Stories (Hardcover)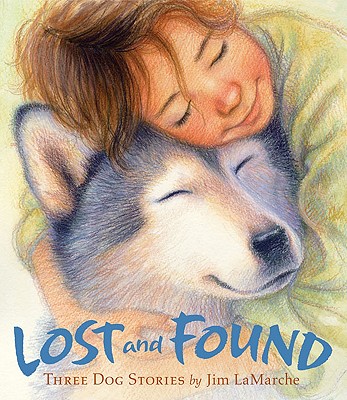 Description
---
Anna looked all around her. The sky was getting dark. "I think we should go home now, Molly." But which way was home?

In three heartwarming stories, celebrated illustrator Jim LaMarche lovingly depicts tales of being lost, being found, finding home, and, most important, the dogs who help us find our way. One lost dog is rescued, another pup leads a frightened child home, and a fractured family finds a fresh start through the love of a dog. Featuring exquisite artwork, this joyful, touching collection will be cherished by anyone who has ever loved a dog.
About the Author
---
Jim LaMarche has been enchanting readers since 1992, when his illustrations for Laura Krauss Melmed's The Rainbabies earned him international acclaim. He is the father of three sons and lives with his wife in central California.
Praise For…
---
BOOKLIST
\\\"As usual, LaMarche s softly textured acrylic and colored-pencil illustrations in mellow, golden-tinged hues delight the eye.... the winsome artwork superbly captures both the action and the emotion of these heartwarming stories.\\\"


PUBLISHERS WEEKLY
\\\"LaMarche\\\'s gentle artwork distinguishes this collection, gracefully rendering the special bond between dogs and children.\\\"


KIRKUS REVIEWS
\\\"Each of the three main characters and the three dogs has a distinct personality, and children who love dogs (especially those who long for a canine companion) will find this a touching triad.\\\"