Ten Mice for Tet! (Hardcover)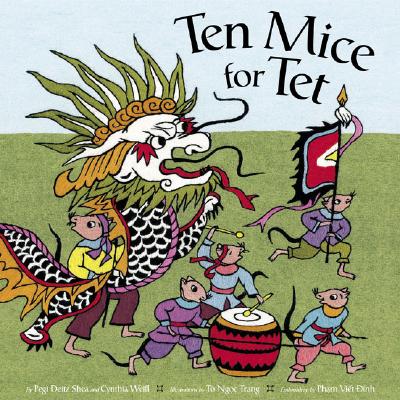 $15.99
Email or call for price.
Description
---
It's time for Tet This vibrant, unique counting book introduces children to the rich traditions of the Vietnamese New Year. A playful village of mice lead young readers through the joyful celebration, as exquisitely embroidered illustrations recreate ten scenes of preparation, gift giving, feasting, and firework displays. With simple text followed by an informative afterword, "Ten Mice for Tet" is a joyful tribute to a special holiday.
Honors for "Ten Mice for Tet "
2004 CCBC (Cooperative Children's Book Center) Choices selection
"Kirkus Reviews" starred review
2004 Notable Books for a Global Society.
Praise For…
---
Weill, who worked for an international relief organization in Vietnam, Shea and Trang use a counting-book format to introduce readers to Tet-the Vietnamese new year"-as big a celebration as Easter, Thanksgiving, and Christmas combined!" according to the helpful and extensive endnotes. The book serves as a marvelous showcase for Viet Dinh's embroidery; Trang's clean compositions provide the template for the embroidery. The story follows ever-growing groups of mice in a traditional Vietnamese village as they prepare for and enjoy the Tet festivities. Some aspects of the pictures will strike a chord with readers regardless of their background-three mice clean their home, six mice open presents, 10 mice admire a fireworks display. But the book also emphasizes how a culture's beliefs shape the observance of a holiday. As "1 mouse plans a party," for instance, sinewy white-thread clouds of incense rise from an altar and waft through the room (the endnote explains that the fragrance and offerings are meant to beckon ancestors). Older readers will most appreciate the pictures' exquisite craftsmanship-every inch of every spread is covered in thread-but the cheery cartoon mice, the vivid Southeast Asian palette (the use of pink is particularly striking) and exuberant compositions will hold the interest of even the youngest readers. This attractive volume may well provoke a lively discussion of how another culture's holiday can seem both familiar and exotic. -Publishers Weekly starred review
Readers and pre-readers alike will get generous measures of cultural information from this look at preparations for the Vietnamese New Year celebration. After "1 Mouse plans a party," "2 Mice go to market," and so on, "10 Mice watch fireworks," before closing at last with a merry "Chuc Mung Nam Moi!" The illustrations, done in brightly hued embroidery so thick that it looks like brushed felt, feature stylized mice (they actually look more like whiskered pigs, but let it go) in traditional dress, happily cleaning, eating, exchanging gifts, playing musical instruments, and parading in a village setting. The authors enhance the minimal main text with extensive end notes, pointing out significant details while describing traditional foods, beliefs, and customs associated with Tet. Altogether, an inviting, informative introduction to the holiday - and the only separate title for younger readers that's not routine assignment fodder. -Kirkus Reviews starred review
This accessible counting book is a lovely introduction to the Vietnamese New Year...Remarkable, vividly colored, embroidered artwork enhances the text. The textural quality is still perceptible even though the pieces have been photographed, and readers are able to see the individual stitches in this fine workmanship...This multileveled approach allows this title to be used with children of a wide range of ages. An excellent addition to any collection. -School Library Journal starred review