All about Indonesia: Stories, Songs and Crafts for Kids (Hardcover)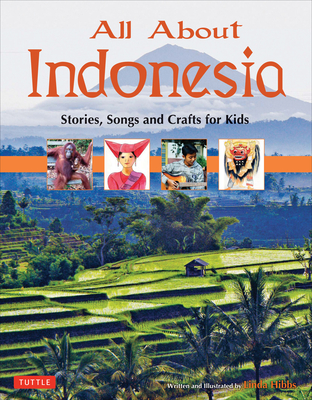 $16.95
Email or call for price.
Description
---
All About Indonesia is a book for children that takes them on an adventure through one of the world's largest and most culturally diverse countries.
Along the way, kids are introduced to Indonesian culture and history, the food, the language, and the natural beauty of this fascinating country From popular sports to traditional dances, and from everyday dress to foods and school activities, this multicultural children's book provides glimpses of the everyday life and culture of this exotic, faraway land.
Kids will learn about Indonesia through stories, songs, crafts, activities and recipes:
Learn basic vocabulary from the national language, Bahasa Indonesia
Make a traditional mask that is worn during special ceremonial dances
Create beautiful batik cloths and other crafts for kids
Experience the difference between big city life in Jakarta versus village living
Explore the beaches and volcanoes in places such as Bali and Sumatra
Enjoy sweet cake made with coconut, and more
About the Author
---
Linda Hibbs got hooked on Indonesia on her first visit at age 12 and has been studying the language and culture ever since. She has taught Indonesian for over two decades at the secondary school and university levels and holds degrees in Indonesian language and ethnomusicology, as well as a master's degree in Asian studies. She is an educational consultant who has created various resources for Indonesian language educators at the primary and secondary levels, including Tuttle Publishing's Indonesian for Kids Flash Cards and More Indonesian for Kids Flash Cards kits. When she isn't teaching or consulting, she creates artworks and plays Indonesian music with a gamelan orchestra.