Dragons of Summer Flame: The Dragonlance Chronicles (Mass Market)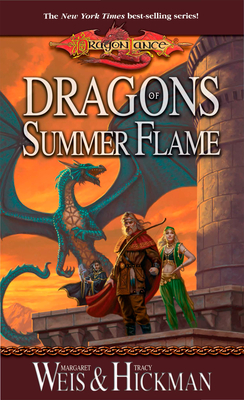 $7.99
Email or call for price.
Description
---
The Dragonlance Chronicles enter a new era in this thrilling installment starring the descendants of the Heroes of the Lance
 
The War of the Lance is long over. The seasons come and go as the pendulum of the world swings. Now it is summer—a hot, parched summer during which the uneasy balance of light and dark begins to shift.
 
The Dark Queen has found new champions in the Knights of Takhisis. Among them is dark paladin Steel Brightblade, the son of the heroic Sturm Brightblade and the infamous Kitiara Uth Matar. He rides to attack the high Clerist's Tower, the fortress his father died defending . . .
 
Elsewhere, other descendants of the Companions embark on their own journeys: Distraught by a grievous loss, the young Palin Majere seeks to enter the Abyss in search of his lost uncle, the archmage Raistlin. And in Palanthas, a human girl named Usha comes forward with claims that she is Raistlin's lost daughter. She has fled her home among the Irda, who have unwittingly unleashed the god Chaos upon the world in their desperation to thwart the Knights of Takhisis.
 
The summer will be deadly. But for whom, only the swing of the pendulum will tell.

Dragons of Summer Flame is the fourth book in the Dragonlance Chronicles and the first installment that follows the Second Generation.
About the Author
---
Margaret Weis and Tracy Hickman published their first novel in the Dragonlance Chronicles, Dragons of Autumn Twilight, in 1984. Over twenty years later, they are going strong as partners and have published over a hundred books, including over thirty novels, collections of short stories, role-playing games, and other game products alone or with other co-authors. Hickman is also the inspiration for the "Tracy Hickman Presents" line of Dragonlance novels for Wizards of the Coast. Weis is the President of Sovereign Press, which publishes Dragonlance game material as well as many other game products.