Civil War Battlegrounds: The Illustrated History of the War's Pivotal Battles and Campaigns (Hardcover)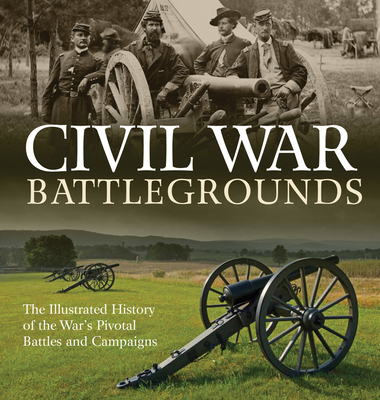 $16.99
Email or call for price.
Description
---
Relive the historic battles of the Civil War in this comprehensive overview of all the key battle sites. Written by expert Civil War scholar Richard Sauers, Civil War Battlegrounds is fully illustrated with period and modern photography and artwork, bringing the pivotal battles to life for historians and tourists alike.

From Fort Sumter to Gettysburg to Appomattox and points between, Sauers illuminates the path of the war, providing stories of the battles and key participants along with fascinating sidebars covering a variety of related topics. He also covers helpful visitor information for the battleground tourist, including phone numbers and websites, hours, parking details, admission fees, and available tours and programs.

The battleground sites: Fort Sumter National Monument, Sullivan's Island, South Carolina; Manassas National Battlefield Park, Manassas, Virginia; Wilson's Creek National Battlefield, Republic, Missouri; Fort Donelson National Battlefield, Dover, Tennessee; Pea Ridge National Military Park, Pea Ridge, Arkansas; Shiloh National Military Park, Shiloh, Tennessee; Fort Pulaski National Monument, Savannah, Georgia; Richmond National Battlefield Park, Richmond, Virginia; Antietam National Battlefield, Sharpsburg, Maryland; Fredericksburg & Spotsylvania National Military Park, Fredericksburg, Virginia; Stones River National Battlefield, Murfreesboro, Tennessee; Vicksburg National Military Park, Vicksburg, Mississippi; Gettysburg National Military Park, Gettysburg, Pennsylvania; Chickamauga & Chattanooga National Military Park, Fort Oglethorpe, Georgia; Kennesaw Mountain National Battlefield Park, Kennesaw, Georgia; Monocacy National Battlefield, Frederick, Maryland; Petersburg National Battlefield, Petersburg, Virginia; and Appomattox Court House National Historical Park, Appomattox, Virginia.

With its wealth of concise and engaging information, Civil War Battlegrounds lets you walk in the footsteps of the men and women who lived, fought, and died in this bloodiest of American conflicts.
About the Author
---
Richard Sauers (White Oak, PA) began his career in US military history, particularly the Civil War, by lecturing on the subject at a number of Pennsylvania colleges and universities. Since then, he has written several books and many articles on the Civil War, as well as US military history in general. He has also worked as an editor at Butternut & Blue Press, a history publisher in Baltimore, and as a curator at the Soldiers and Sailors Memorial Hall & Museum in Pittsburgh. Sauers has been published in or worked as an editor for several magazines, including Civil War Times Illustrated, the Journal of Military History, Gettysburg, and North and South.