The Dairy-Free Kitchen: 100 Delicious Recipes Without Lactose, Casein, or Dairy (Hardcover)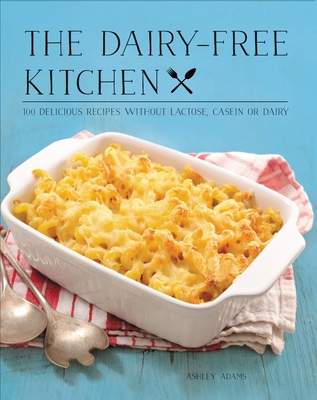 $12.99
Email or call for price.
Description
---
The Dairy-Free Kitchen contains 100 delicious recipes for the foods you love without the dairy, lactose, or casein—plus tips on spotting hidden dairy, keeping up your calcium levels, and myths and facts on dairy substitutes.

While 4% of the population suffers from diagnosed lactose intolerance, it is estimated that a staggering 50 million Americans suffer from some degree of dairy intolerance/allergy. Moreover, recent research has linked milk protein (casein) to cancer and autoimmune illnesses and found evidence that our bodies quit making the enzymes necessary to digest milk as we age—thus setting up those who consume a dairy-rich diet for IBS, allergies, and other autoimmune and digestive difficulties. Reducing the amount of dairy in your life can seem difficult especially when there are tons of appetizing dairy foods out there, but with The Dairy-Free Kitchen, you'll learn how to easily make tantalizing dairy-free recipes in your very own home like:
Quiche Lorraine
Maple Walnut Sugar Scones
Figs stuffed with Cashew Blue Cheese
Creamy Potato and Leek Soup
Asparagus Risotto
Coconut Crème Brûlée
The Dairy-Free Kitchen also provides you with a wealth of information on weeding out hidden dairy in everyday foods and getting adequate levels of calcium and minerals from a dairy-free diet. You'll learn how to make dairy-free milks, creams, butters, cheeses, yogurts as well as recipes for mouthwatering foods like mac n' cheese, pizza, and milkshakes. A Just for Kids chapter provides a menu of meals and desserts that the kids will love. 

Going dairy-free isn't as complicated as you think. You can do it—and deliciously!
About the Author
---
Ashley Adams is the dairy-free cooking expert and former writer for The Spruce. She has worked in many aspects of the dairy-free food industry, from catering, to recipe development for restaurants, to teaching classes on vegan/vegetarianism and dairy-free cooking. Ashley has been dairy-free for over a decade, so she knows first-hand the struggles that come with food restrictions and how to overcome these while still eating nutritiously and deliciously. She currently resides in Anchorage, Alaska.