Ms. Marvel Volume 1: No Normal (Paperback)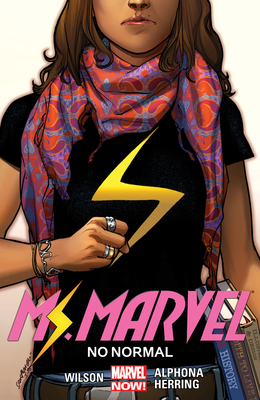 $15.99
Usually Ships in 1-5 Days
Description
---
Marvel Comics presents the all-new Ms. Marvel, the groundbreaking heroine that has become an international sensation! Kamala Khan is an ordinary girl from Jersey City - until she is suddenly empowered with extraordinary gifts. But who truly is the all-new Ms. Marvel? Teenager? Muslim? Inhuman? Find out as she takes the Marvel Universe by storm! As Kamala discovers the dangers of her newfound powers, she unlocks a secret behind them as well. Is Kamala ready to wield these immense new gifts? Or will the weight of the legacy before her be too much to handle? Kamala has no idea either. But she's comin' for you, New York! It's history in the making from acclaimed writer G. Willow Wilson (Air, Cairo) and beloved artist Adrian Alphona (Runaways)! COLLECTING: MS. MARVEL 1-5, MATERIAL FROM ALL-NEW MARVEL NOW! POINT ONE
About the Author
---
Willow Wilson began her writing career at the age of 17, when she freelanced as a music and DJ critic for Boston's
Weekly Dig
magazine. Since then, she's written the Eisner Award-nominated comic book series
Air
and
Mystic: The Tenth Apprentice
and the graphic novel
Cairo
. Her first novel,
Alif the Unseen
, was a New York Times Notable book. It was shortlisted for the 2012 Flaherty-Dunnan Award. G. Willow spent her early and mid twenties living in Egypt and working as a journalist. Her articles about the Middle East and modern Islam have appeared in the
New York Times Magazine
, the
Atlantic Monthly
and the
Canada National Pos
t. Her memoir about life in Egypt during the waning years of the Mubarak regime,
The Butterfly Mosque
, was named a Seattle Times Best Book of 2010.
Willow is published by
Grove/Atlantic Books
in the United States and
Atlantic UK
in the United Kingdom.