Without Fear: A Hunter Stark Novel (Hardcover)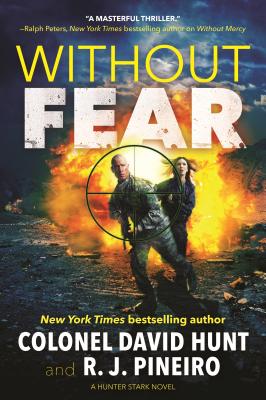 Email or call for price.
Not Available at This Time
Other Books in Series
This is book number 2 in the Hunter Stark series.
Description
---
"Outstanding . . . This military adventure thriller deserves to become a genre classic."—Publishers Weekly, starred review

New York Times bestselling author Col. David Hunt and R. J. Pineiro have teamed up for a second action-packed, Hunter Stark thriller steeped in authenticity: Without Fear.

Southern Afghanistan, 2005. NATO forces are battling the Taliban across Kandahar Province. In a terrifying twist, the rebels unearth a tactical nuclear bomb lost in the final days of the Soviet occupation. The years buried in the sand have damaged it, so the Taliban seeks the help of al Qaeda to secure replacement parts through its contacts in Saudi Arabia, the Opium Cartel, and the Russian Mafia. Doing so, however, inadvertently alerts the Americans, the Russians, and the Israelis.

Hunter Stark and his team of CIA contractors are on the chase, dispensing explosive waves of violence to track where the Taliban is hiding the weapon. But Russian Spetsnaz and Israeli Mossad operatives are also in the region following their own agendas—as is NATO—triggering chaos and confusion.

The stakes skyrocket when a courier delivers the components and the weapon becomes functional, forcing Stark to drive full throttle, without fear, into a world of terror, going beyond duty and honor to prevent the unthinkable.
About the Author
---
COLONEL DAVID HUNT has spent almost thirty years fighting our nation's wars, from Vietnam to Bosnia. He is a New York Times bestselling author and has been a commentator with Fox News for ten years. Hunt lives in Maine with his family.

R.J. PINEIRO is a 27-year veteran of the computer industry, where he held various positions at Advanced Micro Devices, Inc., retiring in 2011. He is the author of many internationally acclaimed novels including Shutdown, Firewall, Cyberterror, and Havoc, as well as the millennium thrillers, 01-01-00 and Y2K. He makes his home in central Texas, where he lives with his wife, Lory Anne, and his son, Cameron.
Praise For…
---
"Outstanding . . . This military adventure thriller deserves to become a genre classic." —Publishers Weekly, starred review

"Not only explosive, thrilling combat, but also realistic characters to root for. Think Brad Taylor, Brad Thor, Ben Coes . . . Smart, skillful, seriously committed action with emotional weight." —Shawangunk Journal

"The story drips with battlefield authenticity, written by someone who has been on the front lines and knows what war looks like." —The Real Book Spy

Praise for Without Mercy

"A masterful thriller written by men of deep experience. Epic in scale yet swiftly paced, Without Mercy is as convincing as it is chilling. Authors Hunt and Pineiro know the insider details—the way governments, intelligence services and terrorists really work—and it shows from the first page to the closing scene. First-rate and very highly recommended!"
—Ralph Peters, New York Times bestselling author of The Damned of Petersburg

"Without Mercy is the ultimate terrorist scenario, with authenticity steeped into every page. Col. David Hunt and R.J. Pineiro put their credentials on display in stellar fashion. Readers who enjoy Tom Clancy and Brad Taylor will find a new favorite."
—Ward Larsen, USA Today bestselling author of Assassin's Silence

"Constant action, sympathetic heroes, believable evildoers, and absolute authenticity on every page."
—Publishers Weekly, starred review

"The authenticity of the story makes the tale particularly terrifying, especially at a time when real-life international relations appear unstable. A fine apocalyptic thriller right up the alley of Clancy and Thor fans."
—Booklist

"A superb book . . . one of the best thrillers I have read since Stephen Coonts' Liberty's Last Stand. I did not want to put the book down. Colonel David Hunt and R.J. Pineiro worked together well to produce an exciting, well-written book that looks at the threats facing us today."
—Fresh Fiction