24: Rogue: A 24 Novel (24 Series #2) (Mass Market)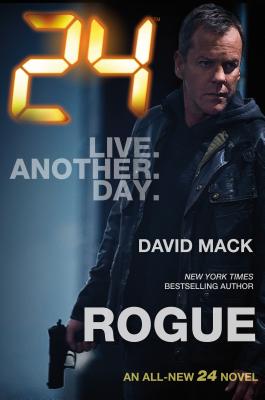 Email or call for price.
Not Available at This Time
Description
---
The thrilling new book based on the hit Fox TV series 24 from New York Times bestselling author David Mack, 24: Rogue.

The time is 8:00 PM. Jack Bauer is a man without a country, a fugitive hunted by the most powerful nations in the world. He lives on the run, survives by his wits, and finds purpose in his exile by waging a one-man war against those who profit from the deaths and sufferings of others.

On a self-imposed crusade to destroy the criminal empire of international arms dealer Karl Rask, Jack has infiltrated the crew of one of Rask's freighters. But his mission is disrupted when the ship is hijacked by a band of suspiciously well-informed pirates off the coast of Somalia.

As Jack fights to free the ship, he discovers a deadly secret hidden in its hold: a prize the pirates were hired to steal, and that could be used to ignite a world war-unless Jack captures it first.
About the Author
---
DAVID MACK is the New York Times bestselling author of more than twenty-five novels, including the Star Trek Destiny and Cold Equations trilogies. He co-developed the acclaimed Star Trek Vanguard series and its sequel, Star Trek: Seekers. His writing credits span several media, including television (Star Trek: Deep Space Nine), film, short fiction, magazines, comic books, computer games, and live theater. He currently resides in New York City.