Midnight Tides: Book Five of The Malazan Book of the Fallen (Mass Market)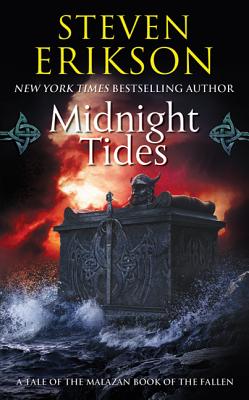 $13.99

In Our Warehouse - Expected arrival in 2-5 days
Description
---
After decades of internecine warfare, the tribes of the Tiste Edur have at last united under the Warlock King of the Hiroth, There is peace--but it has been exacted at a terrible price: a pact made with a hidden power whose motives are at best suspect, at worst deadly.

To the south, the expansionist kingdom of Lether, eager to fulfill its long-prophesized renaissance as an Empire reborn, has enslaved all its less-civilized neighbors with rapacious hunger. All, that is, save one--the Tiste Edur. And it must be only a matter of time before they too fall--either beneath the suffocating weight of gold, or by slaughter at the edge of a sword. Or so destiny has decreed.

Yet as the two sides gather for a pivotal treaty neither truly wants, ancient forces are awakening. For the impending struggle between these two peoples is but a pale reflection of a far more profound, primal battle--a confrontation with the still-raw wound of an old betrayal and the craving for revenge at its seething heart.
About the Author
---
STEVEN ERIKSON is an archaeologist and anthropologist and a graduate of the Iowa Writers' Workshop. His Malazan Book of the Fallen series has met widespread international acclaim and established him as a major voice in the world of fantasy fiction. The first book in the series, Gardens of the Moon, was shortlisted for a World Fantasy Award. The second novel, Deadhouse Gates, was voted one of the ten best fantasy novels of the year by SF Site. He lives in Canada.
Praise For…
---
"The series has clearly established itself as the most significant work of epic fantasy since Stephen R. Donaldson's Chronicles of Thomas Covenant." —SF Site

"Extraordinarily enjoyable . . . Erikson is a master of lost and forgotten epochs, a weaver of ancient epics." —Salon.com