Three Parts Dead (Craft Sequence #1) (Paperback)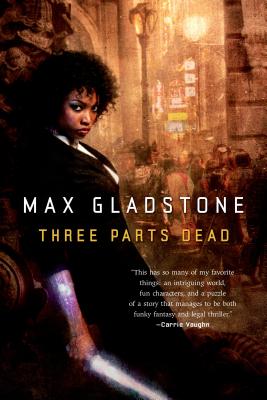 $18.99

In Our Warehouse - Expected arrival in 2-5 days
Other Books in Series
This is book number 1 in the Craft Sequence series.
Description
---
"Stunningly good. Stupefyingly good." —Patrick Rothfuss

Max Gladstone's Craft Sequence chronicles the epic struggle to build a just society in a modern fantasy world.

A god has died, and it's up to Tara, first-year associate in the international necromantic firm of Kelethres, Albrecht, and Ao, to bring Him back to life before His city falls apart.

Her client is Kos, recently deceased fire god of the city of Alt Coulumb. Without Him, the metropolis's steam generators will shut down, its trains will cease running, and its four million citizens will riot.

Tara's job: resurrect Kos before chaos sets in. Her only help: Abelard, a chain-smoking priest of the dead god, who's having an understandable crisis of faith.

When Tara and Abelard discover that Kos was murdered, they have to make a case in Alt Coulumb's courts?and their quest for the truth endangers their partnership, their lives, and Alt Coulumb's slim hope of survival.

Set in a phenomenally built world in which lawyers ride lightning bolts, souls are currency, and cities are powered by the remains of fallen gods, Max Gladstone's Craft Sequence introduces readers to a modern fantasy landscape and an epic struggle to build a just society.


For more from Max Gladstone, check out:

The Craft Sequence
Three Parts Dead
Two Serpents Rise
Full Fathom Five
Last First Snow
Four Roads Cross
About the Author
---
MAX GLADSTONE is a fencer, a fiddler, and the winner of the Hugo and Nebula Awards for This is How You Lose the Time War, co-written with Amal El-Mohtar. A two-time finalist for the John W. Campbell Award, he is fluent in Mandarin and has taught English in China. He is also the author of the Craft Sequence of novels--a Hugo Award finalist, a game developer, and the showrunner for the fiction serial, Bookburners. Max lives and writes in Somerville, Massachusetts.
Praise For…
---
"This has so many of my favorite things: an intriguing world, fun characters, a puzzle of a story that manages to be both funky fantasy and legal thriller. Three Parts Dead is simultaneously fast paced and thoughtful, and I thoroughly enjoyed it." —Carrie Vaughn, author of the Kitty Norville series

"Neil Gaiman and Jim Butcher are conjured for a China Miéville story about magical lawyers trying to revive a dead God in a steampunk city. Recommended: Hell yes!" —Geek Speak Magazine

"Max Gladstone has evidently devised a necromantic steampunk machine that enabled him to channel the Roger Zelazny of Lord of Light, cathect the Neil Gaiman of American Gods, and subsume the oeuvre of John Grisham, all with the aim of producing loopy, metaphysically-minded legal thrillers." —James Morrow, author of The Last Witchfinder

"With his first book, Max Gladstone gives promise of being a true star of twenty-first century fantasy." —John Crowley, author of Little, Big and The Deep

"The combination of legal thriller and steam-powered fantasy may seem improbable, but Gladstone makes it work with an appealing cast and a setting rich in imaginitive details....the story remains suspenseful and fast-paced throughout, and the diverse, female-led cast is a joy to follow through the fascinating and unusual landscape." —Publishers Weekly, Starred Review

"Max Gladstone has created a fascinating universe and equally fascinating characters.... This is his first novel. I can't wait for his second." —Jerry Pournelle, author of The Mote in God's Eye and Lucifer's Hammer

"Sci-fi, fantasy and a murder mystery all rolled in one.... exciting and fast paced with unexpected twists and turns. It culminates in a big surprise ending." —RT Book Reviews