Waiting on Love (Large Print / Paperback)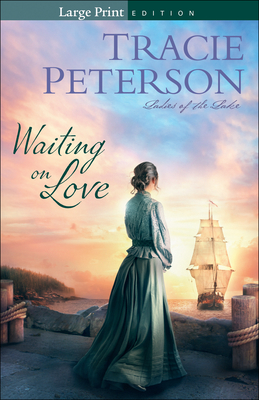 $25.00
Email or call for price.
Description
---
She's made big promises. It'll take everything she's got to keep them.

Crisscrossing the Great Lakes onboard her father's freighter ship, the Mary Elise, Elise Wright has grown up cooking and caring for the crew. It is a life she loves. Unlike her estranged sister, Elise has turned down numerous opportunities for a "respectable life" with their wealthy relatives. And now, because of promises she made to her dying mother, she's bound to the ship and her deeply grieving father more than ever.

Nick Clark is grateful to be hired on as the Mary Elise's first mate as he works to overcome his own guilt and others' censure for a fatal decision he made captaining another ship. He feels protective of the Wrights and their generous natures, especially when a rough new sailor seems intent on causing serious trouble.

As the sailor's misdeeds grow, tragedy swells up from another corner. Left to pick up the pieces of the commitments they've made to themselves and to each other, Nick and Elise will have to rely on their faith to see them through.
About the Author
---
Tracie Peterson is the award-winning author of over 100 novels, both historical and contemporary. Her avid research resonates in her many bestselling series. Tracie and her family make their home in Montana. Visit www.traciepeterson.com to learn more.