The Romans: Gods, Emperors, and Dormice (Paperback)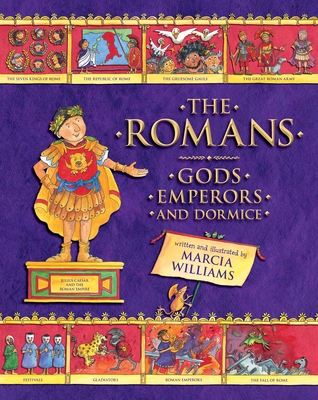 Description
---
"Filled with humor and a bit of attitude . . . will engage even the most reluctant young readers." — School Library Journal

Meet Dormeo: gladiator, dormouse, berry-nibbler, and guide to ancient Rome. He's about to lead a tour — from the temperamental gods and goddesses of Mount Olympus to the birth of the Roman Republic and the death of Julius Caesar. On the way are glimpses of life as a Roman citizen, from families to festivals, gladiators to guards, as well as a look at some of Rome's best-known emperors (good and not so good). Packed with fascinating information, this graphic storybook is a young reader's ideal introduction to the rise and fall of the Roman Empire.
About the Author
---
Marcia Williams has written and illustrated many books in her highly successful and entertaining comic-strip style. Among her many retellings are Ancient Egypt: Tales of Gods and Pharaohs, Greek Myths for Young Children, Tales from Shakespeare, and More Tales from Shakespeare. Marcia Williams lives in London.
Praise For…
---
In cartoon panels, the inimitable Williams offers snapshots of ancient Rome from the mythological creation of the universe to the fall of the empire.
—Kirkus Reviews

These busy cartoons range from minuscule to full-page and always invite close inspection. Crammed within, readers will find miniature charts, tiny maps, overhead diagrams of outdoor areas, lessons on daily life, and plenty of modern snark. It's an usual conceit pulled off quite well—by employing Dormeo as a humorous narrator, Williams is able to present atrocities imposed upon the lower classes of Roman people without overwhelming readers. Lots and lots of information here; prepare for this book to be renewed at least once.
—Booklist

Filled with humor and a bit of attitude, this latest venture for Williams will engage even the most reluctant young readers. An excellent addition to a history or classics curriculum.
—School Library Journal

Williams' slim, richly illustrated account of Roman history will ... do the trick for middle-grade students with an enthusiasm for ancient (or at least very, very early) history.
—Bulletin of the Center for Children's Books