Leroy Ninker Saddles Up: Tales from Deckawoo Drive, Volume One (Paperback)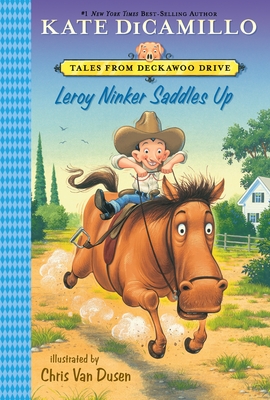 Other Books in Series
This is book number 1 in the Tales from Deckawoo Drive series.
Description
---
"DiCamillo effortlessly slips back into the comfortable rhythms of Mercy's world, infusing every chapter with subdued wit, warmth, and heart." — Publishers Weekly (starred review)

Yippie-i-oh! Saddle up for the first in a spin-off series starring favorite characters from Kate DiCamillo's New York Timesbest-selling Mercy Watson books. Leroy Ninker has a hat, a lasso, and boots. What he doesn't have is a horse—until he meets Maybelline, that is, and then it's love at first sight. Join Leroy, Maybelline, and everyone's favorite porcine wonder, Mercy, for some hilarious and heartfelt horsing around on Deckawoo Drive.
About the Author
---
Praise For…
---
DiCamillo … has always been at her best when dwelling on the good and the bad in relationships between humans and animals, and Van Dusen knows precisely how best to present Leroy to us.
—The New York Times Book Review

Kate DiCamillo and Chris Van Dusen strike gold again with this charming addition to the Mercy Watson story-verse. ... As with her Mercy Watson books, DiCamillo manages something extremely difficult in an early reader series—a delicious sense of language that is playful and poetic while also staying accessible and appropriate. Leroy Ninker Saddles Up is full of immensely likable characters, unexpected plot twists and humor that will appeal equally to kids and adults. Chris Van Dusen's personality-filled illustrations perfectly complement the writing, making this a very enjoyable read-aloud.
—Shelf Awareness (starred review)

DiCamillo effortlessly slips back into the comfortable rhythms of Mercy's world, infusing every chapter with subdued wit, warmth, and heart. Van Dusen matches the text stride-for-stride, delivering caricatured spot art and full-page scenes of the Pinocchioesque Leroy and the four-toothed, spaghetti-loving Maybelline, who Leroy comes to consider "the most splendiferous horse in all of creation."
—Publishers Weekly (starred review)

DiCamillo's quirky, eccentric characters speak in flowery sentiments and employ charming wordplay. Along with Van Dusen's well-matched illustrations, there's a sweet, retro innocence reminiscent of McCloskey's classic "Homer Price." Despite the old-fashioned accent, the absurdities will easily appeal to a modern audience. Filled with love and kindness and glorious sweet-talk: "Yippee-i-oh."
—Kirkus Reviews

Fans of Mercy Watson will delight in meeting Maybelline, a horse who loves to hear the melody of pretty words, likes the company of others, and enjoys spaghetti noodles. ... Van Dusen's black-and-white cartoon pictures provide a lighthearted humor that makes the book a good choice for transitioning readers. Character driven, this fast-paced story is sure to please. A fun new edition to the cast and crew of "Mercy Watson."
—School Library Journal

DiCamillo's use of inventive and colorful language and Van Dusen's stylized gouache illustrations make this story click; give this to graduates of the earlier series looking for a bit more of a challenge.
—Booklist

Spot art, full-page art, and double-page spreads with Van Dusen's characteristic shiny-faced characters infuse the plot with extra energy and expression. Part cowboy story and part pet love story, this multi-layered tale beautifully balances comically exaggerated details and true spirit. Mercy Watson fans will enjoy being back in the saddle in this slightly more advanced spin-off.
—The Horn Book

Readers will have a hootenanny of a good time as this rookie cowboy learns to deal with these characteristics, and they'll be especially pleased to find that the pair's adventures (or misadventures) land them back on Deckawoo Drive meeting up with a few familiar faces from the Mercy Watson series, including that toast-loving pig. The text is lengthier here than in those books and the sentence structure more complicated, but there's still the same skillful use of repetition, goofball humor, and easy accessibility. Mercy fans will be quick to cowboy up to this title.
—Bulletin of the Center for Children's Books

Newbery Medal winner Kate DiCamillo has incorporated characters from her popular Mercy Watson series into this charmer. ... Readers who love horses, cowboy fiction, DiCamillo, buttered toast, and the Mercy Watson series will enjoy this title.
—Library Media Connection

Fans of DiCamillo's popular Mercy Watson series, rejoice! ... Short, colorful sentences make this a surefire hit, either as a book for younger readers or a family read-aloud. Van Dusen's retro, hilarious caricatures are perfect.
—Plain Dealer

This transitional reader offers witty wordplay, a creative storyline, and endearing characters. ... DiCamillo's brilliant use of descriptive language and character development coupled with a heartfelt message about friendship make this a must-have for the classroom.
—Reading Today Online

Colorful cowboy slang and silly caricatures multiply the laughs and together convey the 'yippie-i-oh' happiness at the heart of what becomes a love story.
—The San Francisco Chronicle