One Beetle Too Many: Candlewick Biographies: The Extraordinary Adventures of Charles Darwin (Paperback)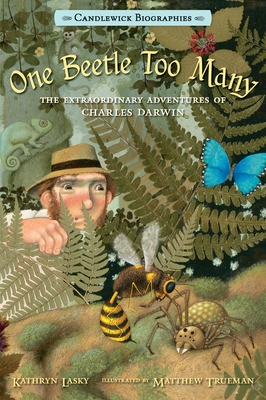 List Price: $5.99
Our Price: $4.99
(Save: $1.00 17%)
Description
---
"Lasky's text balances the exuberant artwork with well-organized information, gracefully sprinkling in quotes from Darwin." — School Library Journal (starred review) 

In a clear, engaging narrative, Kathryn Lasky takes readers along on Darwin's journey, from his beetle-collecting childhood to his observations of variations in plants and animals, suggesting that all living things are evolving over time. Matthew Trueman's striking mixed-media illustrations include actual objects found in nature, enhancing this compelling look at the man behind the bold theory that would change the way we think about the world—and ourselves.
Back matter includes a bibliography.
About the Author
---
Praise For…
---
Large and humorous mixed-media illustrations will draw children to this large-format biography…Lasky's text balances the exuberant artwork with well-organized information, gracefully sprinkling in quotes from Darwin's own writing…creates a clear view of a man who was troubled by the implications of his observations and who, at the end of his life, was more interested in experimenting with earthworms and carnivorous plants than in promoting his theory.
—School Library Journal (starred review)

Distilling tough concepts into light, conversational prose…a just-right introduction to Charles Darwin….colorful, cut-to-the-chase language …multilayered mixed-media illustrations; mostly paint, these also incorporate bits of flowers and weeds as well as string, paper and fabric.
—Publishers Weekly (starred review)

This accessible jaunt will easily situate the man as a natural adventurer in kids' minds before he becomes just another stuffy old scientist.
—Booklist

An accessible presentation that's likely to circulate briskly.
—Bulletin of the Center for Children's Books

This well-rounded look at Darwin is enhanced by the illustrations, which add a touch of whimsy to the pages.
—Library Media Connection

Darwin's various adventures are broken up in ways that allow the reader to repeatedly enjoy pieces and parts of this title, possibly as a read-aloud. Trueman's illustrations are fun and winsome; no dry scientific sketches here.
—Booklist

This intelligently and elegantly designed volume makes clear how much Darwin's ideas continue to create an impact on science, society and culture, a century and a half later.
—Shelf Awareness

Emphasize[s] Darwin's 'extraordinary adventures,' the fun, the pleasure he took in observing wherever he was.
—Chicago Tribune

Colorful details about the great scientist bring him to life in full living color in this marvelous picture biography.
—Buffalo News

The text is full of small details that will grab the attention of young readers…Trueman uses his mixed mediums to great effect, and the addition of pressed flowers and plants to his already delightful paintings is especially effective.
—The Well-Read Child blog

Packed with tales of [Darwin's] adventures, his ideas, and his work…well written and factually correct and contains absolutely beautiful artwork that is both whimsical and appealing.
—Science Books and Films

Brilliantly illuminates the life of the famed naturalist Charles Darwin.
—Journal News online

Works well to display Darwin s personality and the excitement of his forays into the natural world. The illustrations are a match to this approach and the style of the writing, with a slight air of the whimsical and lively, colorful immediacy.
—Bloomsbury Review

Kathryn Lasky brilliantly illuminates the life of the famed naturalist Charles Darwin who gave birth to the 'idea that scared the world…Matthew Trueman's charming and intricate illustrations…convey the contradictions and humanity of Darwin.
—Journal Inquirer

Distills an enormous amount of difficult information into just enough text for young readers…Artist Trueman adds fun to the mix with large mixed media cartoon illustrations that appropriately incorporate bits of plants flowers and weeds…entertaining and friendly.
—Plain Dealer

Skillfully blending watercolors, pencils, and inks, the art captures Darwin's fascination with life around him, making this a compelling introduction to this important scientist's life.
—California Kids