One Gorilla: A Counting Book (Hardcover)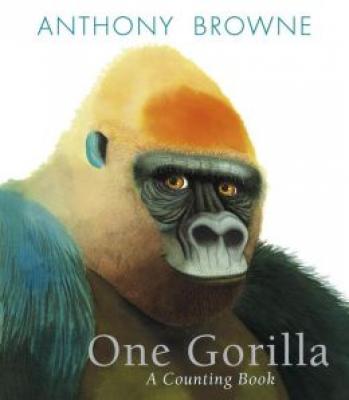 Spring '13 Kids List
---
"Anthony Browne has rescued us from the doldrums of repetitive concept books with his gorgeous One Gorilla. Browne's illustrations of primates are stunning, and there's a great nod to the human-primate connection at the end. With its vivid, colorful illustrations, One Gorilla is for ape fans everywhere and for anyone looking for something beyond a plain old counting book."
— Suzanna Hermans, Oblong Books & Music, Rhinebeck, NY
Description
---
Primo primate artist Anthony Browne is at the top of his form with a simple — and simply fascinating — array of creatures for kids to count.

What better attention-getter for small children than primates in all their variety? And who better to render them than Anthony Browne? In this elegant counting book, the author-illustrator outdoes himself with a vivid presentation of primates from gorillas to gibbons, macaques to mandrills, ring-tailed lemurs to spider monkeys. With his striking palette, exquisite attention to detail, and quirky flair for facial expressions, Anthony Browne slyly extends the basic number concept into a look at similarities and differences — portraying an extended family we can count ourselves part of.
About the Author
---
Anthony Browne, a recent British Children's Laureate, has received many awards for his work, including the Hans Christian Andersen Award in 2000 for his services to children's literature. He has written and illustrated more than forty books, including Little Beauty and How Do You Feel? Anthony Browne lives in Kent, England.
Praise For…
---
The key to the book's impact lies in the dignity of a portrait sitting that Browne confers on creatures more commonly seen behind glass walls. Every face has a discernible personality. Even the lemurs are distinct individuals, with variations in snouts, eyes, and ears.
—Publishers Weekly (starred review)

The text is spare: "1 gorilla"; "2 orangutans"; "3 chimpanzees"; and so forth, concluding after "10 lemurs" with depictions of the author and an array of humans. The portraits, however, are extraordinary: Browne's exquisite precision, with delicate hatching of fur and careful stippled delination of facial lines, becomes jubilant with color and personality.
—Bulletin of the Center for Children's Books (starred review)

In this seemingly simple counting book from one to ten (plus a final coda), generous white space and classic type treatment balance expertly with large head-and-shoulders portraits of primates...Browne's watercolor technique is just about perfect, combining realism and exaggeration, mass and focus.
—The Horn Book (starred review)

Browne really cranks up the color intensity in this gorgeous, large-trim portrait gallery of primates.
—Kirkus Reviews

This is an arresting visual experience.
—School Library Journal

A great spark for both science discussions and fun.
—Booklist

It is difficult – possibly impossible – to remember a recent counting book that has clambered up out of the slough of "useful" into the rarefied strata of "stunning" and "memorable." Hats off to Anthony Browne for creating ONE GORILLA...This picture books invites the very youngest to gaze into the luminous eyes of their primate cousins and see a spirit as intense, as intricate and as important as their own.
—Washington Post

Browne's gorgeous paintings bring real vibrancy to the animals' facial expressions and dramatically colored fur.
—Entertainment Weekly

[D]on't be surprised if your children bring this one back to you again and again and again.
—San Francisco Book Review