I Love You, Grandpa (Paperback)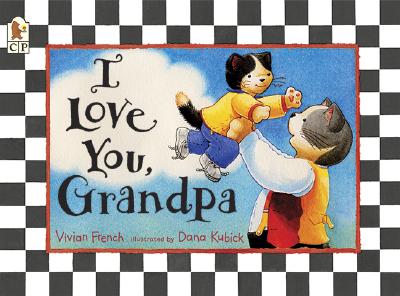 $5.99
Email or call for price.
Description
---
"The special bond between young and old plays out sweetly in this happy picture book." — BOOKLIST

Grandpa has come to stay for the weekend, and Mom is off to work. Stanley's brothers and sisters want to play soccer or jump-rope or bouncing, but Grandpa and Stanley aren't too good at those games. What they do have a special talent for is snuggling, as they discover when Stanley sings Grandpa a song, and they both fall asleep. No wonder Stanley loves his grandpa the best of all!
About the Author
---
Vivian French has written many acclaimed books for children, including the first book to feature Stanley, A PRESENT FOR MOM. She says, "Dana (and I think she's so clever!) has drawn Stanley to look exactly like my cat, Louis. But he talks and thinks like my daughter Nancy. She's the youngest of four, just like Stanley, and she says it doesn't make life easy!" Vivian French lives in Edinburgh, Scotland.

Dana Kubick has designed everything from greeting cards to teddy-bear-shaped ice-cream cones. Her work has been widely exhibited, and she has illustrated a number of children's books, including A PRESENT FOR MOM. She says, "I fell in love with Stanley and nearly expected him to appear around the corner of my drawing table. My friends would ask after him as if he were the newest member of our family. I think, in a way, he is." Dana Kubick lives in London.