The Patchwork Path: A Quilt Map to Freedom (Hardcover)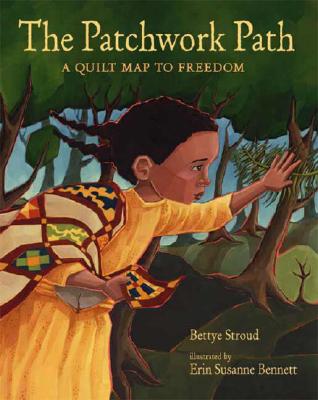 $16.99
Email or call for price.
Description
---
The images stitched into Hannah's patchwork quilt lead to secret signposts on the Underground Railroad as she and her father take flight from slavery on a perilous path to freedom.

The wagon wheel. The bear's paw. The flying geese. These are some of the squares in the quilt Hannah's mama helped her to sew -- before Hannah's sister was sold to another plantation and before Mama died of a broken heart. Now that Hannah's papa has decided to make the run for freedom, this patchwork quilt is not just a precious memento of Mama -- it's a series of hidden clues that will guide them along the Underground Railroad to Canada, where they'll finally be free. A fictionalized account of a fascinating oral history, THE PATCHWORK PATH tells the story of a brave father and his young daughter, two of thousands who escaped a life of slavery and made the dangerous journey to freedom -- a story of courage, determination, and hope.
About the Author
---
Bettye Stroud is the author of several picture books that speak of her African American heritage, including DANCE Y'ALL, THE LEAVING, and DOWN HOME AT MISS DESSA'S. Of THE PATCHWORK PATH, she says, "I want my writing to be inspirational to children as they face the 'demons' I write about. I hope my readers see themselves and know they are not alone in facing disappointments. I want them to know all is never lost; there is always hope."

Erin Susanne Bennett is a recent graduate of the Savannah College of Art and Design. Of THE PATCHWORK PATH, her first book, she says, "Growing up in Rochester, New York, had a tremendous impact on my awareness of the Underground Railroad. Illustrating THE PATCHWORK PATH has only deepened my appreciation for the immense strength, courage, and sacrifice embodied by African American slaves and those who fought with them for equality."