Hog Wild!: A Frenzy of Dance Music (Hardcover)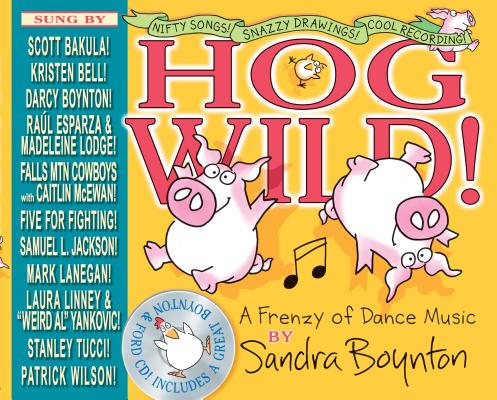 $17.95
Email or call for price.
Description
---
"Every man, woman, chicken, and child! Come on over now 'cause we're going HOG WILD!"

    Great singers, great actors, terrific music, and SUCH a cool illustrated songbook—wild times all around! The irrepressible Sandra Boynton brings you eleven all-out musical tracks, in a dizzying array of dance styles. And the songs are performed by a veritable dream team: The smoldering Patrick Wilson channels Elvis in the rockabilly "Hog Wild" title track. The ever-wonderful Kristen Bell convinces everyone to just "Dance It Out." Samuel L. Jackson stomps his captivating way through "Tyrannosaurus Funk." Stanley Tucci is the impossibly frenetic caller of the "Rat Race." Five for Fighting goes full-on big band era with a stunning slow-build/big-finish "Swing Thing." And when's the last time you heard Laura Linney and "Weird Al" Yankovic perform a song together? Here they give you the electronic sci-fi "Robot Dance," which Mr. Yankovic suddenly turns into (naturally enough) a Broadway tap dance number. All this and so much more!

    Hog Wild! is the sixth Boynton songbook-and-CD set—the recording created with her long-time music producing partner, Michael Ford. The full-color hardcover book includes glorious Boynton illustrations, all the lyrics, and a section of music notation for all eleven songs.

    Three books from this celebrated book/CD series have been New York Times bestsellers. They also have garnered a Grammy nomination, and one Platinum and two Gold record albums, led by the million-copy Philadelphia Chickens.

    So don't just sit there! Take a child by the hand, put on your sneakers or tap shoes (oh heck, bare feet will do), cue up the CD, and get out there and dance, dance, dance, dance, dance, dance, dance!!!

 
About the Author
---
Sandra Boynton is a popular American cartoonist, children's author, songwriter, producer, and director. Since 1974, Boynton has written and illustrated over sixty children's books and seven general audience books, including five New York Times bestsellers. More than 70 million of her books have been sold, "mostly to friends and family," she says. She has also written (with Michael Ford) and produced six albums of renegade children's music. Three of her albums have been certified Gold (over 500,000 copies sold), and Philadelphia Chickens, nominated for a Grammy, has gone Platinum (over 1 million copies sold). Boynton has also directed twelve music videos of her songs, including the award-winning "One Shoe Blues" starring B.B. King, "Alligator Stroll" starring Josh Turner, and "Tyrannosaurus Funk" (animation) sung by Samuel L. Jackson. She lives in rural New England, and her studio is in a barn with perhaps the only hippopotamus weathervane in America.
Michael Ford, Sandra Boynton's esteemed collaborator on Philadelphia Chickens and Rhinoceros Tap, is a classically trained composer and pianist, with a long detour in Progressive Rock performance. He and his family live down the road a spell from Sandy.
Praise For…
---
"Bouncy, cheery songs sure to get little bodies moving … [from] a star-studded cast including Samuel L. Jackson, "Weird Al" Yankovic, and Laura Linney …, creating a musical compilation perfectly appropriate for the youngest listeners and also remarkably aesthetically pleasing for parents and caregivers. … Whimsical yet satisfying, this book will have even the most down-in-the-dumps fans of musical children's media dancing along. " –Kirkus Reviews