Dragonfall (Dragon Scales #1) (Hardcover)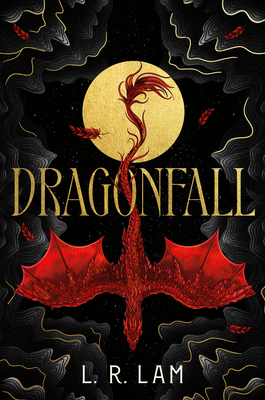 $27.00

In Our Warehouse - Expected arrival in 2-5 days
Other Books in Series
This is book number 1 in the Dragon Scales series.
Description
---
The first book in a new romance epic fantasy trilogy, in which long-banished dragons, revered as gods, return to the mortal realm

"An intriguing world, forbidden romance, unique magic, and of course, as many dragons as your heart could possibly desire." —Tara Sim, author of The City of Dusk

"Tight, tense, smoldering, and wonderfully queer." —Mike Brooks, author of The God-King Chronicles

"Dragons have never been so sexy." —Kate Dylan, author of Mindwalker

Long ago, humans betrayed dragons, stealing their magic and banishing them to a dying world. Centuries later, their descendants worship dragons as gods. But the "gods" remember, and they do not forgive. 

Thief Arcady scrapes a living on the streets of Vatra. Desperate, Arcady steals a powerful artifact from the bones of the Plaguebringer, the most hated person in Lumet history. Only Arcady knows the artifact's magic holds the key to a new life among the nobles at court and a chance for revenge. 

The spell connects to Everen, the last male dragon foretold to save his kind, dragging him through the Veil. Disguised as a human, Everen soon learns that to regain his true power and form and fulfil his destiny, he only needs to convince one little thief to trust him enough to bond completely--body, mind, and soul—and then kill them.

Yet the closer the two become, the greater the risk both their worlds will shatter.
About the Author
---
L.R. Lam was first Californian and now Scottish. Lam is the Sunday Times bestselling and award-winning author of Dragonfall (the Dragon Scales trilogy), the Seven Devils duology (co-written with Elizabeth May), Goldilocks, the Pacifica novels, and the award-winning Micah Grey trilogy, which begins with Pantomime.
Praise For…
---
"Lam crafts a dynamic world of mystery and magic populated by diverse characters with well-shaded backstories and conflicting motivations that add a layer of depth to this sophisticated fantasy. Readers will be eager for more." —Publishers Weekly

"Dragonfall will delight fans of well-designed worlds, heroes' journeys and slow-burning romance. Here there be (sexy) dragons." —BookPage

"Dragons have never been so sexy. Lam's triumphant return to fantasy strikes the perfect balance between romance, action, high stakes heists, and betrayal, in a richly imagined world that's brimming with magic and heart. You can't help but fall for this book."  —Kate Dylan, author of Mindwalker
 
"With a queernorm cast that challenges the roles of gender and sexuality, Dragonfall is a page-turner that keeps you on the edge of your seat with phenomenal worldbuilding and jaw-dropping twists. Leaves you as breathless as flying on dragonback." —Linden A. Lewis, author of The First Sister

"Lam's Dragonfall is a powerful all-new imagining of dragons and humans and the wild magic burning between them, set in a divided world as brilliantly original as it is convincing. With striking, beautiful prose and characters that will own your heart, this book—and those to follow in the trilogy—are must-reads." —Julie E. Czerneda, author of the Night's Edge series

"Tight, tense, smoldering, and wonderfully queer." —Mike Brooks, author of The God-King Chronicles

"Dragonfall is fresh and exciting fantasy, full of treachery, romance, and kaleidoscopic world-building. You will gladly lose yourself in L. R. Lam's creation." —Jen Williams, author of The Poison Song

"Dragonfall is a soaring good time from start to finish, and has plenty for fantasy fans to love: an intriguing world, forbidden romance, unique magic, and of course, as many dragons as your heart could possibly desire." —Tara Sim, author of The City of Dusk
 
"A romance featuring a sexy dragon, stabbing, and kissing—what's not to love?" —Aliette de Bodard, award-winning author of A Fire Born of Exile
 
"Set in a unique and wondrous world, Dragonfall is a soaring and fiery love story that will burn or melt your heart. Lam's prose is delicate and gorgeous yet sharp, and will leave readers pining for the next book." —Wesley Chu, #1 New York Times-bestselling author of the War Arts Saga
 
"Dragonfall is a brilliant, beautifully paced page turner of a novel, up there with the best fantasy and one of my favorite reads of the year so far."  —J.D. Oswald, author of The Ballad of Sir Benfro