Sleep No More (October Daye #17) (Hardcover)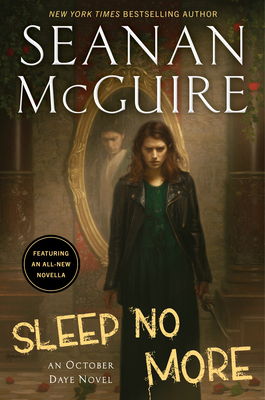 $28.00

In Our Warehouse - Expected arrival in 2-5 days
Other Books in Series
This is book number 17 in the October Daye series.
Description
---
The 17th novel of the Hugo-nominated, New York Times bestselling October Daye urban fantasy series.

October is very happy with her life as the second daughter of her pureblood parents, Amandine and Simon Torquill. Born to be the changeling handmaid to her beloved sister August, she spends her days working in her family's tower, serving as August's companion, and waiting for the day when her sister sets up a household of her own. Everything is right in October's Faerie. Everything is perfect.

Everything is a lie.

October has been pulled from her own reality and thrown into a twisted reinterpretation of Faerie where nothing is as it should be and everything has been distorted to support Titania's ideals. Bound by the Summer Queen's magic and thrust into a world turned upside down, October has no way of knowing who she can trust, where she can turn, or even who she really is. As strangers who claim to know her begin to appear and the edges of Titania's paradise begin to unravel, Toby will have to decide whether she can risk everything she knows based on only their stories of another world.

But first she'll have to survive this one, as Titania demonstrates why she needed to be banished in the first place—and this time, much more than Toby's own life is at stake.
About the Author
---
Seanan McGuire lives and works in Washington State, where she shares her somewhat idiosyncratic home with her collection of books, creepy dolls, and enormous blue cats. When not writing—which is fairly rare—she enjoys travel, and can regularly be found any place where there are cornfields, haunted houses, or frogs. A Campbell, Hugo, and Nebula Award winning author, Seanan's first book was released in 2009, with more than twenty books across various series following since. Seanan doesn't sleep much.
Praise For…
---
"How does one keep a long-running series feeling fresh? McGuire answers this question in her fun 17th October Daye urban fantasy . . . As entertaining as ever." —Publishers Weekly

"Seventeen books into the series and again I am really wowed by the imagination and storytelling brought to life . . . If you are a fan of stories with Fae mythos in modern day, I have not found a better one." — Books of My Heart


Praise for the October Daye series

New York Times and USA Today bestselling series

"The top of my urban-paranormal series list! I am so invested in the worldbuilding and the characters.... The romance is real and awesome, but doesn't overshadow the adventure." —Felicia Day

"The 13th outing for Daye is just as fresh and exciting as the first. McGuire has built a complex world, where seemingly loose ends are woven tightly into the series. Highly recommended." —Library Journal (starred)

"How does one keep a long-running series feeling fresh? McGuire answers this question in her fun 17th October Daye urban fantasy.... As entertaining as ever." —Publishers Weekly

"The worldbuilding in this series has astonishing depth, and Night and Silence is no exception—12 books in, McGuire is still giving readers fascinating new pieces of the Faerie puzzle." —Booklist

"I can't believe McGuire can come up with another adventure as riveting as this one. But then I say that after every book in this series." —SFRevu

"McGuire has never lacked for courage in her writing.... The phenomenally inventive October Daye series showcases her narrative daring and ingenuity beautifully." —RT Reviews

"Prepare to be dazzled.... Like the best of urban fantasy, with each reveal and mystery solved, Toby's world grows ever more enticing. As seductive as Faerie itself, this is one series I could never give up." —All Things Urban Fantasy

"These books are like watching half a season of your favorite television series all at once.... More than anything else, it's the fun of it all that's kept me returning to McGuire's books and to this series." —SF Signal 

"The plot is strong, the characterization is terrific, the tragedies hurt...and McGuire's usual beautiful writing and dark humor are present and accounted for. This has become one of my favorite urban fantasy series." —Fantasy Literature