The Brightest Fell (October Daye #11) (Hardcover)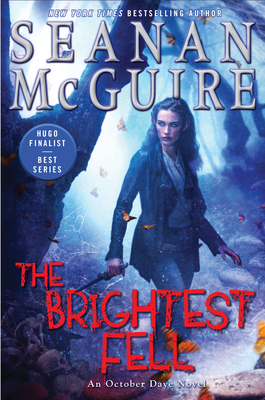 $26.00
Email or call for price.
Other Books in Series
This is book number 11 in the October Daye series.
Description
---
New York Times-bestselling October Daye faerie series • Hugo Award-winning author Seanan McGuire • "Top of my urban-paranormal series list!" —Felicia Day

Contains an original bonus novella, Of Things Unknown!

Things are slow, and October "Toby" Daye couldn't be happier about that.  The elf-shot cure has been approved, Arden Windermere is settling into her position as Queen in the Mists, and Toby doesn't have anything demanding her attention except for wedding planning and spending time with her family.

Maybe she should have realized that it was too good to last.
               
When Toby's mother, Amandine, appears on her doorstep with a demand for help, refusing her seems like the right thing to do…until Amandine starts taking hostages, and everything changes.  Now Toby doesn't have a choice about whether or not she does as her mother asks.  Not with Jazz and Tybalt's lives hanging in the balance.  But who could possibly help her find a pureblood she's never met, one who's been missing for over a hundred years?
               
Enter Simon Torquill, elf-shot enemy turned awakened, uneasy ally.  Together, the two of them must try to solve one of the greatest mysteries in the Mists: what happened to Amandine's oldest daughter, August, who disappeared in 1906.
               
This is one missing person case Toby can't afford to get wrong.
About the Author
---
Seanan McGuire lives and works in Washington State, where she shares her somewhat idiosyncratic home with her collection of books, creepy dolls, and enormous blue cats.  When not writing--which is fairly rare--she enjoys travel, and can regularly be found any place where there are cornfields, haunted houses, or frogs.  A Campbell, Hugo, and Nebula Award-winning author, Seanan's first book (Rosemary and Rue, the beginning of the October Daye series) was released in 2009, with more than twenty books across various series following since.  Seanan doesn't sleep much.  

You can visit her at www.seananmcguire.com.
Praise For…
---
Praise for the October Daye series:

"The top of my urban-paranormal series list! I am so invested in the worldbuilding and the characters.... The romance is real and awesome, but doesn't overshadow the adventure." —Felicia Day

"I can't believe McGuire can come up with another adventure as riveting as this one. But then I say that after every book in this series." —SFRevu

"McGuire has never lacked for courage in her writing.... The phenomenally inventive October Daye series showcases her narrative daring and ingenuity beautifully." —RT Reviews

"Prepare to be dazzled.... Like the best of urban fantasy, with each reveal and mystery solved, Toby's world grows ever more enticing. As seductive as faerie itself, this is one series I could never give up." —All Things Urban Fantasy

"These books are like watching half a season of your favorite television series all at once.... More than anything else, it's the fun of it all that's kept me returning to McGuire's books and to this series." —SF Signal 

"The plot is strong, the characterization is terrific, the tragedies hurt...and McGuire's usual beautiful writing and dark humor are present and accounted for. This has become one of my favorite urban fantasy series." —Fantasy Literature

"With Ashes of Honor, McGuire has crafted a deeply personal and intense story that will keep you on the edge, hoping to be pushed over. In my opinion, it is, hands down, the best Toby to date." —The Ranting Dragon

"An urban fantasy detective series featuring a resourceful female detective.... [October Daye] should appeal to fans of Jim Butcher's Dresden Files as well as the novels of Charlaine Harris, Patricia Briggs, and similar authors." —Library Journal