Alliance Rising (The Hinder Stars #1) (Mass Market)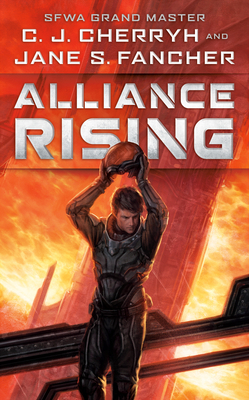 $8.99

In Our Warehouse - Expected arrival in 2-5 days
Description
---
SFWA Grand Master Cherryh returns to the Hugo-award winning Alliance-Union Universe with a thrilling entry in her far-reaching sci-fi saga.

For years, the stations of the Hinder Stars, those old stations closest to Sol, have lagged behind the great megastations of the Beyond, like Pell and Cyteen. But new opportunities and fears arise when Alpha station receives news of an incoming ship with no identification. The denizens of Alpha wait anxiously for news about the outsiders, each with their own suspicions about the ship and its origins.

Ross and Fallon, crew members of the Galway, believe the unidentified ship belongs to Pell and has come to investigate another massive ship docked at Alpha, The Rights of Man. Though Rights is under the command of the Earth Company, it is not quite perfected—and its true purpose is shrouded in mystery.

James Robert Neihart, captain of Finity's End—a huge faster-than-light ship flown by one of the Merchanter Families—has heard whispers of The Rights of Man and wonders at its design and purpose, especially as Sol struggles to rival the progress of the Farther Stars. Now docked at Alpha, he must convince the crews that there is more to The Rights of Man than meets the eye.

Because the reasons behind the creation of The Rights of Man, and its true plans, could change everything—not just for Sol, but for the Hinder Stars and the Beyond itself.
About the Author
---
With more than seventy books to her credit, and the winner of three Hugo Awards, C. J. Cherryh is one of the most prolific and highly respected authors in the science fiction field, and has been named a Damon Knight Memorial Grand Master by the Science Fiction Writers of America. She lives in Washington state.

Born in Renton, Washington, Jane S. Fancher grew up raising and training horses, learning to fly a plane, playing piano, singing, drawing, and studying math, physics, astronomy, and anthropology. While working for WaRP Graphics (Elfquest), she joined a project to produce a graphic adaptation of C. J. Cherryh's Gate of Ivrel. This endeavor led her to a new home in Oklahoma City, where she found her calling and began writing her own novels. She lives in Spokane, Washington with partner C. J. Cherryh.
Praise For…
---
Praise for Alliance Rising

"SFWA Grand Master C.J Cherryh and Jane Fancher team up to create another exciting entry in Cherryh's extensive Alliance-Union Universe." —Kirkus Reviews

"Cherryh and Fancher ground this fine work in the difficult choices that their characters must make in the face of an uncertain future. The economics and sociopolitics are as riveting as space battles, enhancing this welcome addition to the Alliance-Union saga." —Publishers Weekly

"[Alliance Rising] showcases a concern—common to Cherryh's other novels—with organisations and bureaucracies, with systems and societies, and how such wider contexts shape the people (ambitious or content, well-meaning or malicious) who operate within them.... Cherryh and Fancher deploy an anthropological eye." —Tor.com

"Alliance Rising serves to whet the appetite, not just for the second novel in the Hinder Stars sub-series but also to visit and re-visit the full Alliance-Union backlist of novels." —nerds of a feather, flock together