A Peace Divided (Peacekeeper #2) (Mass Market)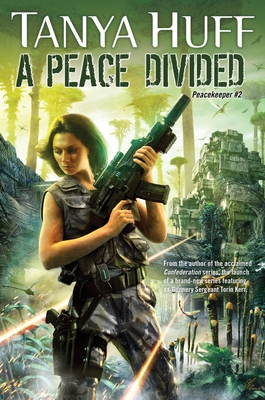 $7.99
Email or call for price.
Other Books in Series
This is book number 2 in the Peacekeeper series.
Description
---
The second book in the action-packed Peacekeeper series, a continuation of Tanya Huff's military sci-fi Confederation series following Torin Kerr

Gunnery Sergeant Torin Kerr had been the very model of a Confederation Marine. No one who'd ever served with her could imagine any circumstance that would see her walking away from the Corps.

But that was before Torin learned the truth about the war the Confederation was fighting…before she'd been declared dead and had spent time in a prison that shouldn't exist…before she'd learned about the "plastic" beings who were really behind the war between the Confederation and the Others. That was when Torin left the military for good.

Yet she couldn't walk away from preserving and protecting everything the Confederation represented. Instead, ex-Gunnery Sergeant Torin Kerr drew together an elite corps of friends and allies—some ex-Marines, some civilians with unique skills—and together they prepared to take on covert missions that the Justice Department and the Corps could not—or would not—officially touch. But after their first major mission, it became obvious that covert operations were not going to be enough.

Although the war is over, the fight goes on and the Justice Department finds its regular Wardens unable to deal with violence and the people trained to use it. Ex-Gunnery Sergeant Torin Kerr has a solution: Strike Teams made up of ex-military personnel, small enough to maneuver quickly, able to work together if necessary. Justice has no choice but to implement her idea and Torin puts her team of independent contractors back into uniform. It isn't war, it is policing, but it often looks much the same.

When the scientists doing a preliminary archaeological dig on a Class Two planet are taken hostage, Torin's team is sent to free them. The problem of innocents in the line of fire is further complicated by the fact that the mercenaries holding them are a mix of Confederation and Primacy forces, and are looking for a weapon able to destroy the plastic aliens who'd started and maintained the war.

If Torin weren't already torn by wanting that weapon in play, she also has to contend with the politics of peace that have added members of the Primacy—former enemies—to her team. Before they confront the mercenaries, Torin will have to sift through shifting loyalties as she discovers that the line between"us" and "them" is anything but straight.
About the Author
---
Tanya Huff may have left Nova Scotia at three, and has lived most of her life since in Ontario, but she still considers herself a Maritimer. On the way to the idyllic rural existence she shares with her partner Fiona Patton, six cats, and a chihuahua, she acquired a degree in Radio and Television Arts from Ryerson Polytechnic—an education she was happy to finally use while writing her recent Smoke novels. Of her previous twenty-three books, the five—Blood Price, Blood Trail, Blood Lines, Blood Pact, Blood Debt—featuring Henry Fitzroy, bastard son of Henry VIII, romance writer, and vampire are among the most popular. Tanya can be found via Twitter at @TanyaHuff.
Praise For…
---
Praise for the Peacekeeper trilogy:

"Huff weaves a fast-paced thriller bristling with treachery and intrigue. Fans of military science fiction will enjoy this tense adventure and its intricately constructed setting." —Publishers Weekly

"Huff works in plenty of backstory for new readers…. Once the action hits the planet running, Huff kicks it into high gear." —RT Reviews

"Tanya Huff knows how to tell a rip-roaring, military sci-fi mystery story like few others." —Barnes & Noble Sci-fi & Fantasy Blog

"[A Peace Divided is] a fun novel, pacey, full of banter, with plenty of space for more sequels. Torin Kerr the Justice Department Warden approaches her work and her life differently to Torin Kerr the Marine, but once a Gunnery Sergeant, always a Gunnery Sergeant. Explosions abound!" —Tor.com

"Torin and her team feel like The A-Team crossed with Mission Impossible.... as long as Tanya Huff decides to keep writing about Torin, I will be ecstatically reading her adventures." —Fantasy Book Review

"The story is told incredibly well and the pace is frenetic once the mission gets underway.... I definitely recommend An Ancient Peace for fans of military sci-fi." —SFRevu

"An Ancient Peace is certainly the adrenaline-fueled adventure that I have come to know, love and expect from this series." —Reading Reality

"An Ancient Peace is all about robust dialogue, well defined characters and a rock solid plot that drives the story onward.... This is intelligent, well written, character driven science fiction falling into that sweet spot between hard sci-fi and pulp action." —The Book Beard's Blog

"Huff is very good with characters and dialogue…she can still turn a line that will make me laugh out loud." —Clandestine Critic