Basher History: Legendary Creatures: Unleash the beasts! (Paperback)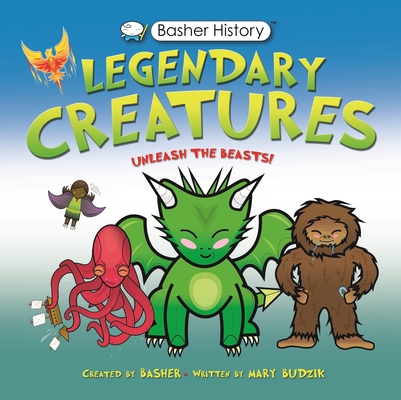 Description
---
From the deepest, darkest depths of the Atlantic Ocean to the cacophonous canopies of the Amazon rain forest, Basher History: Legendary Creatures brings to life the weirdest, creepiest, and most amazing beasts rumored to have roamed our planet.

Featuring well-known creatures like Bigfoot, Mermaids, and Vampires, Legendary Creatures invites you to journey to the forests of Uganda to discover the fierce Ndalawo, a leopard with a hyena-like cry, or to travel through Mayan ruins to meet the ominous Camazotz, a night-flying hybrid of man and bat. Basher's distinctive, colorful illustrations bring these magical mythological beings to life, all the while keeping kids in-the-know about the diverse range of folklore across the world.

For fans of mythical creatures, also check out Basher History: Myths and Legends and the rest of the Basher History series!
About the Author
---
Artist and designer Simon Basher has fun playing in the world of contemporary character design. Inspired by a love of simple line work and a rich color palette, his characters fill the gap between edgy manga and the cuteness of Hello Kitty. He lives in England.