Eyewitness Ancient Greece (DK Eyewitness) (Paperback)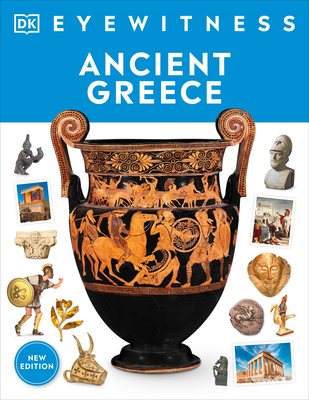 Description
---
Step back in time to an ancient world of mythical beasts, bow down to gods and goddesses, and take a trip to the first Olympics in this illustrated guide. 

Become an eyewitness to the glory of ancient Greece in this picture-led reference guide that will take you on a visual tour of what classical Greece was like. Children will be mesmerized by striking photography, maps, paintings, and lots of artefacts to help understand what life was like at this time.

This illustrated guide lets kids aged 9+ experience the significance ancient Greece has had in transforming our world, in this detailed introduction to one of the world's founding nations. Learn why Greek pottery is so famous, discover how children played, and take a look at what people wore.

Throughout the pages of this newly-revised book on Ancient Greece, you can expect to find: 

- A fresh new look; new photographs, updated information, and a new "eyewitness" feature.
- Amazing facts, updated diagrams, statistics, and timelines.
- Brand new eyewitness accounts from experts in the field.

DK Eyewitness Ancient Greece is crammed full of fascinating information, statistics and facts.  Meet a fierce minotaur, wage war with Alexander the Great, look inside a temple, and learn how the people of ancient Greece lived their lives. Find out about their religions, their hobbies, and their amazing impact on the rest of our history.

So, what's new? 

Part of DK's best-selling Eyewitness series, this popular title has been reinvigorated for the next generation of information-seekers and stay-at-home explorers, with a fresh new look, up to 20 percent new images, including photography and updated diagrams, updated information, and a new "eyewitness" feature with fascinating first-hand accounts from experts in the field.

Explore the series!

Globally, the Eyewitness series has sold more than 50 million copies over 30 years. Travel through the solar system with Eyewitness Space, discover the incredible world of creepy-crawlies in Eyewitness Insect, examine precious stones in Eyewitness Crystal & Gem or take a trip aboard the most famous ship in history with Eyewitness Titanic.
About the Author
---
We believe in the power of discovery. That's why we create books for everyone that explore ideas and nurture curiosity about the world we live in.
 
From first words to the Big Bang, from the wonders of nature to city adventures, you will find expert knowledge, hours of fun and endless inspiration in the pages of our books. 

https://www.dk.com/