Eyewitness Ocean (DK Eyewitness) (Hardcover)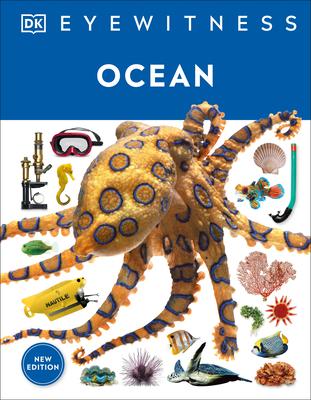 $16.99
Email or call for price.
Description
---
Become an eyewitness to the world's oceans and explore everything from shores and reefs to the freezing depths.

Discover the watery world that covers two-thirds of the globe and find out why oceans are so important to life on Earth.

Meet jet-propelled octopuses and hermit crabs, look closely at seaweed, find out how waves form and discover the submarines and submersibles that have explored shipwrecks and the deepest trenches. Learn about prehistoric oceans and find out how people are trying to protect the oceans of the future.

Loved and trusted for over 30 years, Eyewitness has a new look and even more content:

• A bite-sized formula of text with images that kids love!
• Fully revised and fact-checked by subject specialists
• Packed with facts, infographics, statistics, and timelines
• Updated with brand new eyewitness accounts from experts in the field

Eyewitness Ocean uses a groundbreaking visual layout that makes learning fun for kids aged 9-12. Discover the sequences of sea animal behavior, diagrams of how oceans work, and maps along with amazing facts, infographics, statistics, and timelines to reveal the many aspects of this marine.

Eyewitness content approved by -ologists!

DK's Eyewitness kids books are updated and fact-checked by subject specialists, with brand new first-hand eyewitness accounts throughout from experts in the field.

A best-selling series known and trusted for generations, with a fresh new look and up-to-date content. 

What will you Eyewitness next?

Join the journey to combat climate change with Eyewitness Climate Change or take a trip aboard the most famous ship in history with Eyewitness Titanic.

Do you think you've found your topic of interest? DK has even more ocean books for kids and adults alike find them all by searching for "DK ocean books".
About the Author
---
We believe in the power of discovery. That's why we create books for everyone that explore ideas and nurture curiosity about the world we live in.
 
From first words to the Big Bang, from the wonders of nature to city adventures, you will find expert knowledge, hours of fun and endless inspiration in the pages of our books. 

https://www.dk.com/