The Tale of Despereaux [With Earbuds] (Pre-Recorded Audio Player)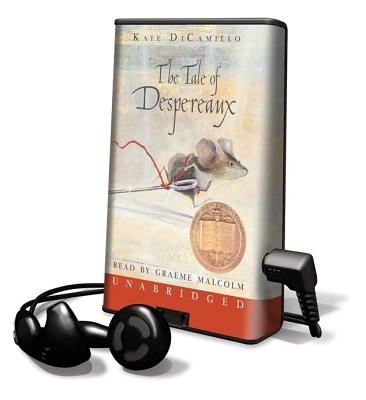 Email or call for price.
Not Available at This Time
Description
---
Kate DiCamillo, author of the Newbery Honor book Because of Winn-Dixie, spins a tidy tale of mice and men where she explores the powerful, wonderful, and ridiculous nature of love, hope, and forgiveness. Her old-fashioned, somewhat dark story, narrated Dear Reader-style, begins within the walls of a castle, with the birth of a mouse. Despereaux Tilling, the new baby mouse, is different from all other mice. Sadly, the romantic, unmouselike spirit that leads the unusually tiny, large-eared mouse to the foot of the human king and the beautiful Princess Pea ultimately causes him to be banished by his own father to the foul, rat-filled dungeon. The first book of four tells Despereaux's sad story, where he falls deeply in love with Princess Pea and meets his cruel fate. The second book introduces another creature who differs from his peers--Chiaroscuro, a rat who instead of loving the darkness of his home in the dungeon, loves the light so much he ends up in the castle and in the queen's soup. The third book describes young Miggery Sow, a girl who has been clouted so many times that she has cauliflower ears. Still, all the slow-witted, hard-of-hearing Mig dreams of is wearing the crown of Princess Pea. The fourth book returns to the dungeon-bound Despereaux and connects the lives of mouse, rat, girl, and princess in a dramatic denouement.