Wake Me When You Leave: Love and Encouragement Via Dreams from the Other Side (Paperback)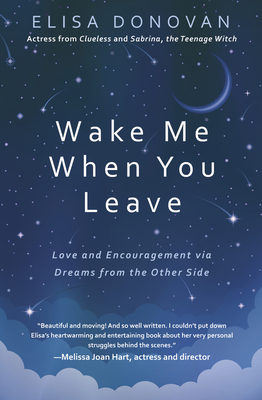 $16.99
Email or call for price.
Description
---
Love, Grief, and Healing in Hollywood and Beyond
After prominent roles in Clueless; Sabrina, the Teenage Witch; and Beverly Hills 90210; Elisa's career was on the fast track. Until her show is unexpectedly cancelled, her relationship ends, and her father is diagnosed with terminal cancer. This book chronicles Elisa's journey out of despair and heartbreak, with awe-inspiring visitations, dreams, and inexplicable synchronicities that could only be her father letting her know that he's watching over her from the afterlife. Sometimes the universe sends us on a journey that we didn't know we needed. By sharing the lessons and challenges that the universe sent to her, Elisa inspires those who are learning to let go after a loss so they can live again with authenticity, humor, and hope.
About the Author
---
Elisa Donovan, known as an actress for her roles in Clueless, Beverly Hills 90210, and Sabrina The Teenage Witch, graduated from Eugene Lang College at The New School University in NYC, where she studied dramatic literature, acting, and writing. She has been a Celebrity Mom Blogger for people.com and is the narrator of the bestsellers Lean In and Option B. The film version of Wake Me When You Leave is in development and will be her directorial debut. Elisa lives in San Francisco with her husband and daughter.