God's Amazing Creation: Genesis, Chapters 1 and 2 (Paperback)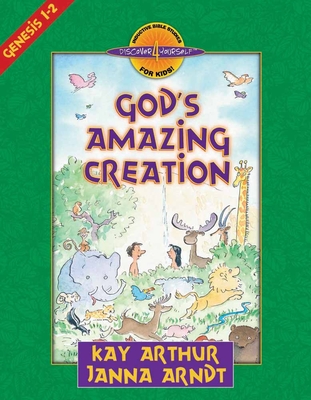 $11.99
Email or call for price.
Description
---
God's Amazing Creation takes kids through the first five chapters of Genesis, focusing on the theme of creation in chapters one and two. Young scholars will put on their archaeologist hats to help the book's main characters--inductive detectives Max and Molly--dig up the truth about how the world began. Kids will discover who the world's creator is, how the heavens and earth were formed, what exactly happened in the beginning, and how the earth, the sea, people, and animals came into existence. Great fun and wonderful Bible truths for kids with an insatiable appetite for the "whys" of life
About the Author
---
Kay Arthur is a four-time Gold Medallion award-winning author, member of NRB Hall of Fame, and beloved international Bible teacher. She and her husband, Jack, cofounded Precept Ministries International to teach people how to discover truth through inductive study. Precept provides teaching and training through study books, TV and radio programs, the Internet, and conferences in over 180 countries and 70 languages.Janna Arndt, coauthor of the Discover 4 Yourself(R) series, including How To Study Your Bible For Kids, Wrong Way, Jonah!, and Boy, Have I Got Problems! is a Bible teacher, and children's trainer for Precept Ministries International, a ministry committed to teaching people of all ages how to study the Bible for themselves. Janna conducts workshops to help people use the interactive Discover 4 Yourself(R) Bible Studies in Sunday school, home school environments, and Christian schools. Janna's heart is for children to know and love God's Word.