Water Fitness Lesson Plans and Choreography (Paperback)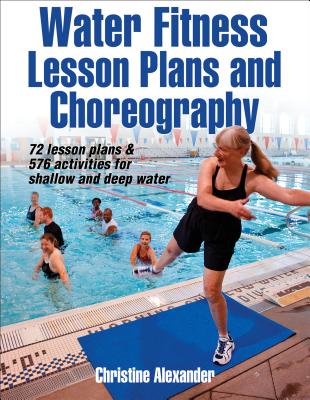 Description
---
Water Fitness Lesson Plans and Choreography helps new instructors learn the basics of class organization and keeps veteran instructors out of the proverbial teaching rut. This reference contains 72 lesson plans for shallow and deep water—each including a warm-up and cool-down, variations, choreography, and modifications. A total of 576 exercises are described and accompanied by 253 photos that depict the key features and the corresponding choreography.
The lesson plans are organized into two sections: shallow and deep water. Each lesson plan for shallow water has a corresponding lesson plan for deep water. All that instructors have to remember are the specific exercise modifications to take the routine from one end of the pool to the other. This allows instructors to learn, remember, and feel comfortable offering a variety of class formats.
This book describes how to establish and meet class objectives through the three phases of any successful water fitness class: the warm-up, the conditioning phase (for cardiorespiratory fitness or muscular strength and endurance), and the cool-down. It includes other fundamental information as well:
•Four easy-to-use choreography styles to keep classes engaging
•Troubleshooting tips for creating a flowing and successful class
•Key differences between shallow-water and deep-water exercise to aid in selecting the best format to meet objectives
•Common names and anatomical terms for each exercise to help new instructors learn which exercises work what muscles
•Information on modifying the class to attract and cater to various populations
•Tips for cueing, choosing music, and preparing for each class
Over two million people participate in water fitness, so good water fitness instructors are in high demand. Water FitnessLesson Plans and Choreography will help new and veteran instructors create well-organized classes so that participants meet their objectives, come back for more, and have fun!
About the Author
---
Christine Alexander is a water fitness instructor for the City of Plano Parks and Recreation Department at Oak Point Recreation Center. She teaches additional classes for the City of Addison, the City of McKinney, and the YMCA. She is a nationally certified water fitness instructor and an instructor-trainer through the United States Water Fitness Association. She is also a certified water fitness instructor through the YMCA of the USA and an Arthritis Foundation Aquatic Program instructor. She has served as a board member for the Metroplex Association of Aquatic Professionals, including a three-year term as president of that organization. As an advocate for water fitness, Alexander regularly presents master workouts and has conducted her own introductory course for water fitness instructors. She also enjoys mentoring beginning water fitness instructors.
Alexander lives in Plano, Texas, with her husband, Jim. In her free time, she enjoys weight training, cooking healthy meals, and organic gardening.