Water Learning (Paperback)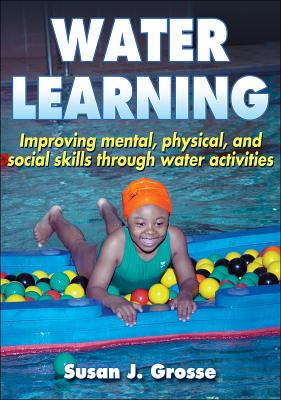 Email or call for price.
Out of Print - Not Available at This Time
Description
---
If you're looking for a book that combines great fun with solid learning, then look no further! Water Learning contains fun-filled water activities that help children develop cognition, perceptual-motor abilities, physical fitness, social interaction skills, and self-esteem. Even though all of the 95 activities use water in some way, this book includes 51 activities in which a pool is not necessary, making this a wonderful resource for any setting. This book is not a "how to swim" book, but rather a guide filled with activities that can be
-an integral part of physical, occupational, or recreational therapy;
-integrated into traditional aquatic programs; and
-used at home under the guidance of parents.
With this book, any adult can be a water learning facilitator. Using a movement exploration format and a problem-solving approach, the activities have success integrated into them. These activities are easy to stage, practical, and engaging; they also enhance the growth and development of all elementary-age children, particularly those with special needs.
In part I, you learn how water can both stimulate and enhance a child's growth and development. The author presents guidelines for establishing a safe, problem-solving learning environment and outlines how water learning can help children with special needs. You also learn how to set up and initiate a safe, fun, and effective water learning program.
Part II presents water activities for the pool as well as for places where pools are not available. An activity finder provides an index to help you locate activities specific to the learning needs of the child. Also included is an equipment index so you can quickly locate activities that use the equipment that you have available. Part II also explores planning and assessment issues that you will find useful in individualizing activities for different children.
Water Learning is a great tool to use whether you're a parent, a classroom teacher, a therapist, or swimming instructor. With its easy-to-use format, its adaptability and multiple uses, and its engaging and fun activities, Water Learning is an ideal resource to help children develop the cognition, motor skills, and abilities they need.

About the Author
---
Susan J. Grosse, MS, is the president of Aquatic Consulting & Education Resource Services in Milwaukee. Grosse has more than 45 years of experience in aquatics and education and has published extensively in the areas of aquatics and exceptional education. She is also a sought-after speaker, having presented in Ireland, Egypt, Canada, and across the United States.
Grosse received a 40-year pin from the American Red Cross as a volunteer instructor and instructor trainer. She also received the Mabel Lee and Honor Awards from the American Alliance for Health, Physical Education, Recreation and Dance (AAHPERD) for her contributions to the education profession. The Aquatic Therapy and Rehab Institute presented her with a Tsunami Spirit Award for her work in aquatics with people with disabilities.
Grosse has served as chair of the Aquatic Council for AAHPERD and as president of the American Association for Active Lifestyles and Fitness. She also has been a water safety instructor trainer and a lifeguarding instructor trainer for the American Red Cross. She can't get enough of the water: In her leisure time she enjoys swimming and canoeing as well as reading and listening to music.