God Gave Us the Bible: Forty-Five Favorite Stories for Little Ones (Hardcover)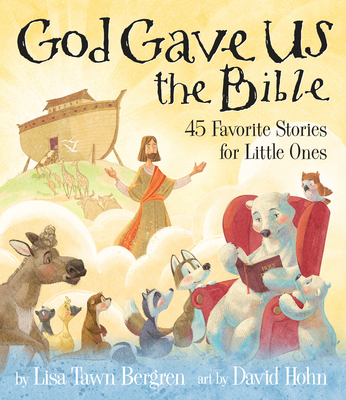 $17.99

In Our Warehouse - Expected arrival in 2-5 days
Description
---
FINALIST FOR THE CHRISTIAN BOOK AWARD® • Introducing a Bible storybook featuring 45 stories from the Bible, with reflections from adorable Little Cub and her friends—part of the bestselling God Gave Us series, with more than 5 million books sold!

God Gave Us the Bible introduces kids to the STORY of stories—the love story between God and his people. Ideal for readers aged 3 to 7, written in a framework where Little Cub and her animal friends reflect many of the questions young readers have about Bible stories. The book features forty-five Bible stories and concepts that every child should know/be introduced to, like Noah and the Ark, the Birth of Jesus, and Jesus Feeds the 5,000 in a very warm, conversational, reassuring manner.
About the Author
---
LISA TAWN BERGREN is a best-selling author of nearly forty books, including the beloved God Gave Us children's book series. Her work spans many genres, from adult fiction to devotionals. She and her husband, Tim, live in Colorado Springs, Colorado, with their family.

DAVID HOHN, illustrator for God Gave Us Thankful Hearts and God Gave Us Family is an award-winning illustrator who graduated with honors from the Maryland Institute College of Art. In addition to illustrating books, he has worked as a staff artist and art director of a children's software company. David lives in Portland, Oregon.
Praise For…
---
"A children's storybook features 45 foundational stories from the Christian Bible. A young polar bear is having a sleepover with several friends of different species. After a fun day, Mama Bear calls the youngsters in for storytime. Explaining that the Bible "is the story God gave us," she proceeds to tell stories from the Old and New Testaments. She begins with the Creation story in Genesis, moves on through Exodus, and concludes with Paul's missionary work. The anthropomorphic little animals are an effective feature of the book, as they frequently comment on the stories and question Mama Bear. Why didn't God simply put a fence around the tree with the forbidden fruit? wonders Little Otter, giving Mama Bear the opportunity to teach the little ones about free will and choosing to love and obey God. Little Cub wants to know how Noah was able to find land with the Ark, and Mama Bear explains about having faith that God will steer you correctly.

The questions and the wonderment the little animals express well reflect the reactions and inquiries many children are likely to have. The illustrations are warm and colorful throughout, with interesting details to catch readers' attention. Little Cub and his friends are particularly well drawn, combining both realistic animal details with human expressions. Characters in the Bible stories are olive-skinned humans. A likely choice for those seeking a children's Christian Bible." (Religion. 4-6) Kirkus Reviews