Hag-Seed (Hogarth Shakespeare) (CD-Audio)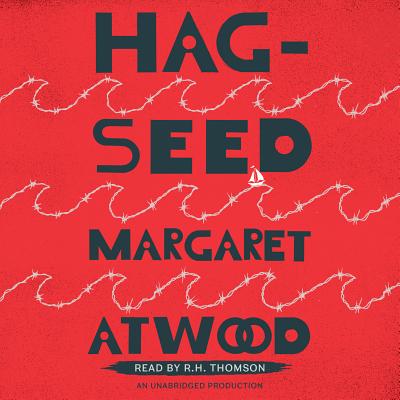 $35.00
Email or call for price.
Description
---
William Shakespeare's The Tempest retold as Hag-Seed
 
Felix is at the top of his game as Artistic Director of the Makeshiweg Theatre Festival. His productions have amazed and confounded. Now he's staging a Tempest like no other: not only will it boost his reputation, it will heal emotional wounds.
 
Or that was the plan. Instead, after an act of unforeseen treachery, Felix is living in exile in a backwoods hovel, haunted by memories of his beloved lost daughter, Miranda. And also brewing revenge.
 
After twelve years, revenge finally arrives in the shape of a theatre course at a nearby prison. Here, Felix and his inmate actors will put on his Tempest and snare the traitors who destroyed him. It's magic! But will it remake Felix as his enemies fall?
 
Margaret Atwood's novel take on Shakespeare's play of enchantment, retribution, and second chances leads us on an interactive, illusion-ridden journey filled with new surprises and wonders of its own.
About the Author
---
MARGARET ATWOOD, whose work has been published in thirty-five countries, is the author of more than forty books of fiction, poetry, and critical essays. In addition to The Handmaid's Tale, her novels include Cat's Eye, short-listed for the 1989 Booker Prize; Alias Grace, which won the Giller Prize in Canada and the Premio Mondello in Italy; The Blind Assassin, winner of the 2000 Booker Prize; Oryx and Crake, short-listed for the 2003 Man Booker Prize; The Year of the Flood; and her most recent, MaddAddam. She is the recipient of the Los Angeles Times Innovator's Award, and lives in Toronto with the writer Graeme Gibson.


From the Hardcover edition.
Praise For…
---
"A marvel of gorgeous yet economical prose, in the service of a story that's utterly heartbreaking yet pierced by humor, with a plot that retains considerable subtlety even as the original's back story falls neatly into place."—New York Times Book Review

"What makes the book thrilling, and hugely pleasurable, is how closely Atwood hews to Shakespeare even as she casts her own potent charms, rap-composition included… Part Shakespeare, part Atwood, "Hag-Seed" is a most delicate monster — and that's "delicate" in the 17th-century sense. It's delightful."—The Boston Globe

"Atwood has designed an ingenious doubling of the plot of "The Tempest": Felix, the usurped director, finds himself cast by circumstances as a real-life version of Prospero, the usurped Duke. If you know the play well, these echoes grow stronger when Felix decides to exact his revenge by conjuring up a new version of "The Tempest" designed to overwhelm his enemies."—The Washington Post
 
"A funny and heartwarming tale of revenge and redemption, this latest release in the Hogarth Shakespeare project, whose aim it is to retell Shakespeare's most beloved works through the works of bestselling authors like Anne Tyler and Gillian Flynn, Hag-Seed is a remarkable contribution to the canon."—Bustle

"Atwood's canny remix offers multiple pleasures…[marvel] at the ways she changes, updates, and parallels the play's magic, grief, vengeance, and showmanship." –Publishers Weekly, starred review
 
 "…Inventive, heartfelt, and swiftly rendered." –Library Journal, starred review

"Atwood brilliantly pulls off the caper in a short novel that should be assigned to high school students as a hilarious riff on one of Shakespeare's more mystifying plays. It's much more than a retelling; it's an ingenious analysis and critique rolled into one."—St. Louis Post-Dispatch

"Margaret Atwood's modern retelling is an entertaining romp of revenge, redemption."—Minneapolis Star-Tribune

"A triumph [...] The book illuminates the breadth and depth of the whole play. The troupe's workshops on it fizz with perception as Atwood transmits the pleasurable buzz of exploring a literary masterpiece. There won't be a more glowing tribute to Shakespeare in his 400th anniversary year."–Peter Kemp, Sunday Times

"The novel shines a thrilling new light on The Tempest's themes of revenge and forgiveness [...] as well as making a strong case for art's ability to "set you free" by helping you understand yourself."–Helen Brown, Sunday Telegraph

"Surpassingly brilliant [...] without question the cleverest "neo-Shakespearean novel" I have ever read [...] the learning and the critical analysis are worn exceptionally lightly, always subordinated to wit, invention, characterisation and slick twists of plot [...] wonderfully ingenious."–Jonathan Bate, The Times

"…you don't need to be a Shakespeare geek like me to enjoy Hag-Seed; it's a good story, and will introduce you to the play gently, with Felix himself as your guide."–NPR Books

"Hag-Seed is a treat. It's a beautifully constructed adaptation, one that stands on its own but is even richer when read against its source — and can, in turn, enrich its source material. It's playful and thoughtful, and it singlehandedly makes a good argument for the value of adapting Shakespeare."–Vox

"Atwood has tremendous fun with Hag-Seed. Those who know the play will especially enjoy her artful treatment of its more poignant storylines. But even someone unfamiliar with Shakespeare will be entertained by this compelling tale of enchantment and second chances, and the rough magic it so delightfully embodies."-Bookpage

"Readers looking for Atwood's wit and mastery of language will find it at work here… Atwood more than does justice to the Bard."-Chicago Review of Books

"One needn't be a Shakespeare fan in order to love this retelling of The Tempest…This book is funny and wonderful. Highly recommended for Shakespeare lovers and those seeking revenge."-Seattle Book Review